Food for Thought: A Philosopher's Cookbook
Paul Murray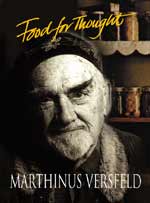 Martin Versfeld
First published 1983 by Tafelberg Publishers, Cape Town

The edition being reviewed published in 2004 by Double Storey Books
ISBN: 1919930949
Publishing Date: 2005
Pages: 120
Format: Hardcover
Price: R165.95
Click on the book cover to buy now from kalahari.net
Martin Versfeld, well-known former Professor of Philosophy at the University of Cape Town, was born in Cape Town in 1909. He wrote several books "that strayed far from academic concerns", including Klip en Klei (about the philosophy of houses), Die neukery met die Appelboom, Pots and Poetry and Food for Thought: A Philosopher"s Cookbook. He died in 1995.
Reading Food for Thought: A Philosopher's Cookbook, you will see Versfeld was far more interested in the origin and process of cooking the dish than in the final product. His text is a philosophical treatise. He admits right from the start: "This isn't a book of recipes or of cooking techniques. It is principally about spiritual food."
So if you think this book will help you make a casserole or a soufflé or whatever it is that you are looking to make, forget it! It is not a book "full of measures of time and quantity". It is about the art of slow cooking and thinking about what you are cooking and thinking while you are cooking. The book is a voyage of discovery. The art of preparing and eating food is inextricably intertwined with the meaning of life.
Versfeld engages the thinking of Chuang-tzu, who wrote in circa 350 BC about Ch'ui the draftsman who could draw more perfect circles freehand than with a compass. His fingers brought forth spontaneous forms from nowhere. His mind was meanwhile free, with no concern with what he was doing (translated by Thomas Merton and adapted by Paul Murray). It is so with cooking, for Versfeld. To measure the quantities of ingredients and the time to cook the dish are constraints.
Many have suggested one should add specific details of precise measurements of time and quantity in the recently edited text, Leipoldt's Food and Wine. This is missing the point. Leipoldt was being philosophical like Versfeld is. For the latter "Cooking is a fine art and not a penance to be got over with as quickly as possible."
How can you "geometricise" the preparation for a fine soup?
It reminds one of the tale concerning C Louis Leipoldt, who was visiting his dear friend Dr Le Fras Nortier in his home town of Clanwilliam. Mrs Nortier and Leipoldt did not have much time for each other. However, Leipoldt was always concerned that his friend should eat well and so, unannounced, used to pop into the Nortier kitchen, lift the lid of the pot in which the soup was being prepared, add some fresh herbs, and leave. Judging from Versfeld's book, he liked to add plantain ("tongblaar") to his soups.
Versfeld sees man as a cooking animal whose course of life can be interpreted by the kinds of pots that he has used for cooking. We think of clay, copper, iron, enamel, aluminium and stainless steel pots. "The majority of these pots tell you that men were miners, the three-legged pot proclaims that they cooked on open fires, the large ones that they ate in groups, the stainless steel pots that they were advanced chemists and metallurgists, the pressure pots that they lived hurried lives." As man has prepared food over the ages, using different methods for cooking, food has been the factor where "we find ourselves naturally drawn to the idea of a convivium or living together".
Versfeld here reminds us of the classical term convivium ("a meal together") and the Greek word symposium ("a banquet"). However, he distinguishes between "the daily and the festive" meal. (Every day is not Christmas.) Festive meals are prepared for occasions to celebrate. These are exciting times, because something special will come our way, like the occasion of the prodigal son when the fatted calf was killed. Christo Visser of Voëlfontein would invite guests for a "smiley". This would be a great occasion.
Versfeld warns that festivities should be in season. They celebrate the divinity of food. I am sure that added to this is the fact that the proper produce is available at the proper time if festivities should be in season. Festivities need not be grand. They can be ordinary, such as, "You can celebrate on bread and cheese if you hold them in your heart."
This brings us back to the question of time and quantity, and recipes. Why do we need instructions how to cook?
"It is something which enables a specific end or result to be duplicated an indefinite number of times," answers Versfeld. He warns against patterns. He confirms that recipes are not sacrosanct. This reminds one of Leipoldt, the prophet of the opposite view. By the same token Versfeld acknowledges, "Though there are some noble classics we may look forward to repeating as we do a wine of good vintage."
He recalls a meal where the host threw the contents of tin after tin, as per prescription, into the pot, and wonders whether it really made the difference. "A poor family could have lived for three days on what that cost …" he suggests. "On the other hand, steamed galjoen with butter and lemon has a classic simplicity of which one never tires." The latter dish must surely feature as a "noble classic".
The faint-hearted should avoid Chapter 8. It describes the preparation and eating of humans: "Infants' flesh will be in season throughout the year, but more plentiful in March …" "Man is what he eats" is a well-known dictum. If he eats maize, he is unlikely to be nomadic. If he likes whale steaks he must somehow have access to harpooning whales. If he eats tinned fruit he must live in a technology rich society. The list is endless.
Today we hear the saying "You are what you eat." If you eat a man are you a man? Versfeld cites the following tale "of men being served a dish of their own children by tyrants, the motive being one of sheer iniquity and the recipes left unrecorded". He speculates about cannibalism in the areas inhabited by the armies of Shaka.
The antidote to cannibalism is vegetarianism. Versfeld campaigns for more attention to this practice. It can serve as a defence against the former, suggests the author. "In eating meat we are not ennobling the flesh but dragging ourselves down to the bestial." Hitler was a vegetarian. He did not seem to have a reverence for life, though.
Potatoes and spinach are assigned two chapters in the book. "The sun never sets on potato eaters, and where the potato has taken root it has become one with the soil and people." These are philosophical titbits that Versfeld shares in his book. He provides us with a humorous view of the potato as "true internationalism, which is a kind of sublime local patriotism because it goes places and does not merely traverse spaces". Similarly, with spinach, we see Versfeld exegete and expound on the features and characteristics of this vitaminous green. He provides some easy recipes.
We end with a lamentation: "the tycoon and pressure-cooker". They are "necessary evils". Versfeld speculates in this final chapter on the question of time and money. Using a pressure-cooker will, however, "cramp your style and ruin your art". Hell is "tycoon time". This is the time stolen from others. Hence the mass-producer of pressure-cookers "to give the housewife more time to do a job and have more time to be his secretary or packer or label-sticker or what have you …" - quite a bold statement. Yet it is made in context of the nature and tone of the book.
There is nothing better than preparing, talking about, philosophising over and finally partaking of slow food. For Versfeld "making time" for something is an expression of love. In writing the book Food for Thought: A Philosopher's Cookbook, the author has done just that. He has made the time to share with the reader an extraordinary journey into soul-cooking; and alongside others, such as Leipoldt, he has demonstrated that expression of love and thus he is a worthy philosopher-chef.



LitNet: 21 June 2005
Join the discussion! Send your comments to webvoet@litnet.co.za to continue the discussion on SêNet, our interactive opinion page.