Levi's®/LitNet Origins of songs

Moontlik gemaak deur/Supported by: Levi's®
Louise Carver
"Unfortunately the music industry is like a giant roller coaster, with incredible, addictive highs as well as unexpected, barbed wire lows - the trick is to be incredibly thick-skinned ..."
The making of "Empty Fantasy"
Louise Carver
"Empty Fantasy" was one of those songs that came together so quickly and easily that I barely remember the actual process of writing it. In my experience, it is this kind of song that goes on to have the greatest success. As a songwriter I love it when I "get out of my own way", as I like to call it. Instead of over-thinking the lyrics and melody, that part of your brain which is "songwriter" just takes over and you are left at the end exhausted and amazed.
For me, when the writing flows without resistance it means that my mind is desperately trying to sort through problems of, usually, an emotional nature. There seems always a price to pay with being a musician - you rarely write genius work in the midst of happiness. It is when you are at your most vulnerable and alone that the magic starts to emerge. I have always relished the dark times, those moments where I could hibernate in my studio and compose deeply inward, troubled songs which somehow eased the pain. Even though most musicians are quite an odd bunch of hedonists, the average person does this every day when they replay over and over again the same sad song on the CD. Human beings need to be in touch with their emotions, whether they are happy or sad, in order to feel alive.
I have never written a song that has affected people quite the way that "Empty Fantasy" has. I wrote it as I was trying to let go of my long-term relationship and initially felt it may be too personal for others to relate to. How similar human beings are in that we all believe we are completely unique. So many people relayed their own sad story to me after the song was released that I no longer felt that the song was entirely mine. As my song became other people's song for their respective relationships, I realised how much comfort music can give to a broken heart.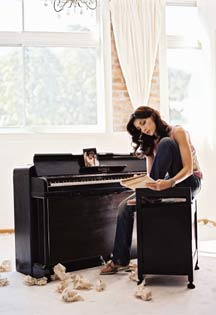 Going back a few steps: I wrote "Empty Fantasy" midway through the three-year process it took to make my album Silent Scream. I was fortunate enough to be working with a dream team in London who initially had agreed to do only one single. As I kept sending them songs, they kept producing them, and so an entire album was born. Lindsay Edwards (one half of the highly successful production team, Tin Tin Out) was at the helm of the production and I felt truly fortunate to be under his guidance. Tin Tin Out has produced hits for The Corrs, Dionne Warwick, Tina Turner and Mariah Carey, to name a few.
I was writing in Cape Town and using my studio in Camps Bay to put the new songs down on demo (just piano and voice). I would then send over the new songs to my producers in London who would decide which ones they wanted to produce. Four times a year I would fly over to the UK and spend a month in their studios working with them to get the sound and feel that I was after.
I remember very clearly what I was doing when Lindsay (the fussier of the two producers) called to congratulate me on writing "Empty Fantasy". He had never done anything like that before, so when I got his call, whilst doing a routine shop in Woolworth's, time stood still for a few golden moments. I had won this deeply respected producer's approval, and although moments before I had been deciding on what kebabs to get for dinner, I suddenly felt as if I had just won an award at the Grammy's. Funny how the ego can elevate situations unguarded …
The production on "Empty Fantasy" began immediately and, like the song, came together with ease. We worked for a couple of days in Lindsay's studio (a converted stable, one and a half hours north of London) on harmonies and instrumentation, and without much being said, we all knew that this would definitely be the first single released off my album. The trend for producers in London was to work from home, preferably a country estate close enough to get into London, but far enough away to be able to live like a gentleman. This suited me fine, as we could work like wild things in the morning, break for a pub lunch and resume the mayhem after a "best out of three" game of darts. This village-like existence is so conducive to creativity … none of the tubes, pollution or general manicness that consumes London.
Whilst the album was coming together nicely, shopping it around to get the right deal was proving exhausting. Everybody I saw in England loved it, but no one was putting pen to paper. Telstar Records (Craig David and Victoria Beckam's label), however, were very interested and asked me to come over and do a showcase. A showcase is basically an industry-only show, the point of which is to encourage a label, through a live performance, to sign your record. The rule is that if you pay for the show (hire the venue, pay the musicians, drinks bill etc), then you have what is called an open showcase for all interested record labels to attend. If, on the other hand, a particular label pays for your showcase, then it is a closed show and only the label concerned can attend. I had the former scenario, so a PR company was hired to ensure that all the right people from the industry were there.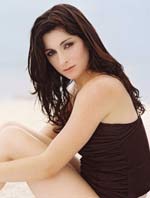 The actual show was the most intense experience of my life. The sound in the venue was awful, so I could hardly hear myself, and the fact that this was such a big deal made me hyperventilate and just want to jump back on a plane and work on a game farm for a while. (Why was I always so attracted to nail-bitingly tense situations?) On the plus side, I was working with Gordon Marshall (drummer extraordinaire from the Moody Blues) as well as other equally mesmerising musicians. To watch Gordon play is like watching Tina Turner hit a high note. Never in my life did I want a drum solo to continue more.
After the show everyone was very excited to meet me and my investors were thrilled. As usual, I felt a major sense of anticlimax, but hoped that all the hard work would pay off. Now … for the waiting game to begin!
After a month back in South Africa had passed with still no word from the once super-keen Telstar, I started to go into a series of uncensored panic attacks. A couple days later, a newspaper article from England was sent to me saying that Telstar Records had gone into liquidation following, amongst other things, a disastrous Victoria Beckam rap album released earlier that year. That would explain the no phone calls and general vanishing act from the label. Unfortunately the music industry is like a giant roller coaster, with incredible, addictive highs as well as unexpected, barbed wire lows - the trick is to be incredibly thick-skinned (rule number 1) and not let label liquidations skew you from your path.
With Telstar gone we decided to hit the major UK labels (Universal, SonyBMG and EMI). This was when I discovered that all the enthusiasm and meetings in the world would come to nothing if I didn't get my album signed and successful in my home territory first - that being South Africa. No major label would work an album which had not already had success in the artist's own country.
This was a brick wall covered in barbed wire that I had not anticipated. One label, Universal International, were very interested and called up the SA contingent to get them to sign Silent Scream. Everything was moving along nicely until I got a very to-the-point email in which they expressed their deepest regrets, but they would be unable to sign my album, as my type of music was not their current focus. Devastated, I was certain that all was lost. I may as well drink myself into an endless stupor, as my beautiful album would never have its day in the sun.
That feeling lasted all of 40 minutes (maximum time allowed to feel completely sorry for yourself) as I rediscovered my golden rule: to be incredibly thick-skinned - and always have a plan B.
What I had failed to mention in my melodramatic state was that SonyBMG (Sony at the time) had been headhunting me in South Africa for months. They had licensed one of my dance tracks ("I'd Say Yes") from the UK, which had gone to no 1 on the 5FM Top 40, and they wanted to hear my album demo. Seizing the moment, I flew to Jo'burg to meet with them and left the meeting knowing that I had finally met the right people and record label for the job.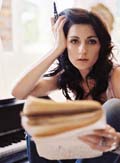 Thinking that all would run smoothly was again a fatal mistake - one commonly made in the music industry. Rule number 2: Nothing ever goes according to plan - expect the unexpected. Mastering the album (the final stage of production which has the power to make an album sensitive and beautiful, or dull and booming) was not going according to plan. We had decided to master it in England, thinking that they had the best expertise. This became an incredibly costly exercise, and after three failed attempts we decided to do it here in South Africa. With the deadline for album release looming, we worked obsessively to get to the musical sweet spot where every instrument holds its own in a production. After a month of working till 5 am, sleeping till 9 am and then listening to the album to make sure none of the nuances had been lost, Silent Scream was ready for release.
"Empty Fantasy" continued to encounter more hurdles, as one of the biggest mergers of all times was taking place just at the time it needed serious mollycoddling. It's very hard to try to get people to care about your song when they don't know whether they will have a job next month.
I was lucky enough to have an amazing key man (the term used in the industry for the person who directly looks after your project at the label) who, throughout all the uncertainty, continued to fight for me and do his absolute best to get "Empty Fantasy" heard.
I had expected to feel much more of a sense of jubilation when the song eventually hit no 1. Instead, as always, I felt the familiar feelings of anticlimax creep in, and only a couple of days later did I experience a quiet sense of achievement. Actually it was more like a sense of, "Thank God I didn't screw this up", because up until that point I was waiting for something to go horribly wrong - CDs self-destructing in peoples Hi-fis, radios refusing to play it … you know, your regularly paranoid musician phobias!
Although having some sort of peace of mind was rewarding in itself, the best part of it all was that so many musicians and producers called me up to say, "Well done". Andy Mac (Flat Stanley), Arno and Theo Crous all phoned to say "Hey girl, you got it going on." It made me realise that success truly is nothing without other people (especially your comrades) giving it meaning, acknowledging your hard work and achievement. Rule number 3: Work with other musicians and not against them; it's so much more gratifying that way.
To survive in this industry and still be able to love what you do is no mean feat. It is a given that you have to be talented, that as a singer-songwriter you have to be able to write great songs, perform them brilliantly and handle everything else that goes with it. The music business is very unforgiving and makes no apologies, so to stay true to myself I use my three major rules and allow them to guide me through both the roller coaster highs and the barbed wire, "didn't see that one coming", lows. That way I can maintain some kind of stability regardless of what is happening around me.
Lyrics
"Empty Fantasy"

From the album Silent Scream

Thought how good it would feel
To be under your spell
Well the conversation's dried up
And I'm left shaking
I've got things I must do
Never waste a day when the sun is shining
But I can't fight these blues
And I feel just like I am drowning

Chorus
So sail away my darling
Wave a kiss goodbye
I swear I thought we'd make it
Oh God how I tried

So I'm holding on tight
To the strength of my own convictions
Another sleepless night
Never thought I'd feel this broken-hearted

Chorus
So sail away my darling
Wave a kiss goodbye
I swear I thought we'd make it
Oh God how I tried
And everybody loved us
But everyone could see
A change that left me holding
An Empty fantasy

Bridge
Heal … myself
You are s'posed to be the one that does so well
And everybody knows the pain of losing love
When are you supposed to learn to give it up …
Give it up

Chorus
So sail away my darling
Wave a kiss goodbye
I swear I thought we'd make it
Oh God how I tried
And everybody loved us
But everyone could see
A change that left me holding
An Empty fantasy
Written by Louise Carver.
Copyright protected.
Five questions

What excites you about the local music industry?

What excites me about the local music industry is on a more personal level. From when I started eleven years ago, to now, there has been such a change in how musicians treat one another. There is so much more camaraderie and support amongst us and this has opened up a wealth of collaborating opportunities. The mood has changed from rivalry to a genuine love for and appreciation of other South African music.

What pisses you off about the local music industry?

The lack of vision and follow-through by both the artist and the industry when a new album is released. I was always taught to think big – don't limit yourself to preconceived ideas of what is possible, keep pushing for your goal. It always makes me so sad when a great single or album is released but nothing comes of it. Musicians need to take more responsibility towards their work and future work, and the industry needs to think outside the box to ensure a future for SA music. These two things must go hand in hand.

Are radio stations doing enough to promote local music?

Some radio stations are an amazing support to local music. I don't think we need to play SA music just because it is SA music … radio stations must play those tunes that are of an international standard, otherwise you are doing more harm then good to the general perception of local music. Saying that, some radio stations are really not contributing to getting the best SA music heard … it continues to baffle me.

If you have to give an aspiring lyricist advice in one sentence, what would it be?

Speak from your heart … don't ever lie to yourself, but don't forget that song-writing is a craft and the truth needs to flow with the melody.

What can local artists do to promote an awareness of HIV/AIDS?

I think artists can put their weight behind awareness projects, by using either their personality or their music. Being so open about this disease is the first step to eliminating the silence and ignorance surrounding it. I suppose artists could sing directly about AIDS, but only if it has affected them on a personal level, otherwise it comes across as cheesy and insignificant.


Skryf aan ons/ Write to us: webvoet@litnet.co.za



LitNet: 14 March 2006