Learn the Art of Charf at the Baxter Theatre Centre
Press release
Art of Charf (Lady Lonely Hearts)
Paul Slabolepszy's latest play
Baxter Theatre Centre from 16 August to 16 September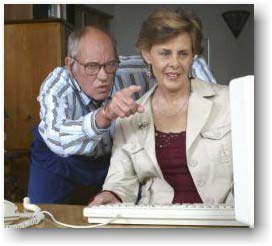 Paul Slabolepszy's latest play, Art of Charf (Lady Lonely Hearts), starring Elize Cawood and Wilson Dunster, comes to the Baxter Theatre Centre on 16 August and runs until 14 September.
This critically-acclaimed romantic comedy is directed by Bobby Heaney. "It is the first time that either of us has worked on a Paul Slabolepszy play," says Cawood. "It has turned out to be an incredible journey for both of us," she continues.
Both actors have been directed by Bobby Heaney many times before. Dunster explains: "Bobby has not only challenged us, but we have also realized that it is his great sense of humour that makes it so easy to work with him.
Cawood plays Gloria van der Vyfer, an Agony Aunt for various Afrikaans women's magazines for longer than she cares to remember, is closing down her business. Her computer dating service has been made redundant by internet and online chat rooms. As she packs up the tiny office that has been home to "Lady Lonely Hearts" for close to 25 years, she is visited by a retired plumber, Cedric Tidbury (played by Dunster) who is set on finding a date for himself. A hilarious journey of self-discovery for both begins. Can a man and a woman ever see eye-to-eye? Is there an actual art to the charf?
Wilson has appeared in almost 40 movies and is well-known as Diehard in the movie There's a Zulu on my Stoep. For television his roles have included Oom Syd Keyser in Konings and Torings, Spider in Egoli and the first mine manager Pierre de Villiers in Isidingo. Over the years he has appeared at the Baxter Theatre Centre in The Cherry Orchard, An Oak Falls, Cat on a Hot Tin Roof and Torch Song Trilogy, to name a few.
Elize is currently on television as Rebecca Rossouw in the soapie Villa Rosa. She also played a fearless white woman who befriends the residents of a black township in the film Taxi to Soweto. Other work includes Verspeelde Lente, Konings, Torings, Onder draai die Duiwel rond, An Old Wife's Tale, and Schreiner - a One Woman Play by Stephen Gray.
Director Heaney says, "To work with one of South Africa's top playwrights along with two of the country's finest actors, is indeed food for the artistic soul. Bringing Art of Charf to life with Paul, Elize and Wilson has been a labour of love that has left me freshly enriched and restored."
Bobby Heaney and Paul Slabolepszy last worked together at the Baxter Theatre Centre with the re-staging of the highly acclaimed Saturday Night at the Palace in 2004.
Paul Slabolepszy, Wilson Dunster and Elize Cawood all received nominations for the Gauteng Naledi Theatre Awards 2005. Art of Charf was also nominated for Best Production at the 2006 Klein Karoo National Arts Festival.
"Don't be fooled: ostensibly this play is about the vagaries of courtship but it is actually a love affair with SA theatre by a quartet of her most loyal, and talented suitors. If it's a delightful night at the theatre you're after, whatever your hormone count, or state of your hairline, Art of Charf will leave a wry smile in your heart." Adrienne Sichel, The Star
"A gentle and charming slice of life which will warm the hearts of audiences, while they brush away the tears." Diane de Beer. Argus, Tonight
Win a set of double tickets to the preview performance of Paul Slabolepszy's Art of Charf on Wednesday August 16 at the Baxter Theatre Centre. To enter contact Kelli on 021 680 3963 or email klakey@baxter.uct.ac.za.
TAKE ADVANTAGE OF THE SPECIAL SENIOR CITIZEN MATINEE ON SATURDAY 19 AUGUST AT 14.30. TICKETS ONLY R45!
20 TICKETS AVAILABLE AT PREVIEW PRICE OF R60 FOR FRIDAY 18 AUGUST BAXTER MONDAYS
SPECIAL OFFER FOR MONDAY NIGHTS ONLY! HAVE A LIGHT MEAL IN THE BAXTER RESTAURANT AND SEE A PERFORMANCE OF ART OF CHARF FOR ONLY R40. TICKETS AVAILABLE FROM BAXTER BOX OFFICE ONLY.


LitNet: 11 August 2006
Wil jy reageer op hierdie inligting? Stuur kommentaar na webvoet@litnet.co.za om die gesprek verder te voer op SÍNet, ons interaktiewe meningsruimte.