Spud wins Booksellers' Choice Award 2006
Press release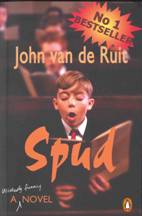 The story of a boy's first year at an elite boys only private boarding school has won the prestigious Booksellers' Choice Award at the Sefika Dinner for the book selling and publishing industry, held at the Elangeni Hotel in Durban, on Tuesday 22 August 2006. Spud written by John Van de Ruit and published by The Penguin Group (SA), won the vote of booksellers across South Africa as the book they most enjoyed promoting and reading in the past year.
Author, John van de Ruit, was delighted to have won the Booksellers' Choice Award, and had this to say:
"I am thrilled and deeply honoured to have won this prestigious award. Not only have SA booksellers embraced Spud, but they have actively promoted a new South African work by a debut author."
The Booksellers' Choice Award, sponsored by BookData, is an important award for South African writing, the book trade and the reading public. It is awarded to the book that booksellers across the country have most enjoyed reading, selling or promoting over the past year. Only open to South African authors who are published in South Africa, the award draws attention to the excellence and high standard of South African writing.
The book was chosen from a shortlist of six :
Spud by John van de Ruit, published by The Penguin Group (SA)
Die Uitgespoeldes by Dalene Matthee, published by The Penguin Group (SA)
Smacked by Melinda Ferguson, published by Oshun Books
Acid Alex by Al Lovejoy, published by Zebra Press
The Hansie Cronje Story: An Authorised Biography by Garth King, published by Global Creative Studios
Into the Past – a Memoir by Phillip Tobias, published by Picador Africa & Wits University Press
Dis Ek, Anna by Elbie Lotter won the 2005 award.
The Bookseller's Choice Award is one of several Awards presented at the Sefika Dinner chosen and presented by the trade, in recognition of outstanding contribution to the industry.
The other awards presented last night were:
Best Trade Bookseller of the Year – Exclusive Books Hyde Park
Best Academic Bookseller / Library Supplier - Adam & Co
Best Trade Publisher – Random House
Best Academic Publisher- Oxford University Press
Best Education Publisher - Afribooks
More about Spud and the author:
It's South Africa, 1990. The country still squirms under the iron fist of Apartheid. The release of Nelson Mandela is imminent, and more importantly, it's Spud Milton's first year at an elite boys only private boarding school. Cursed with parents from well beyond the lunatic fringe, a senile granny, and a dormitory full of strange characters, Spud has to forge a new life for himself in this foreign and sometimes hostile environment. He also invites us into the mind of a boy struggling to come to terms with a strange new world; a boy whose eyes are being opened to love, friendship and complete insanity.
John van de Ruit was born in Durban, South Africa and educated at Michaelhouse and the University of Natal where he completed a Masters degree in Drama and Performance. Since 1998 he has been a professional actor, playwright and producer, winning numerous awards. He is best known for his collaboration with Ben Voss on the hit satirical sketch show Green Mamba which has toured extensively throughout Southern Africa since 2002. This is his first novel.
LitNet: 23 Augustus 2006
Send us your comments. Write to webvoet@litnet.co.za and join our interactive opinion page! The letters page can be found here

© Kopiereg in die ontwerp en inhoud van hierdie webruimte behoort aan LitNet, uitgesluit die kopiereg in bydraes wat berus by die outeurs wat sodanige bydraes verskaf. LitNet streef na die plasing van oorspronklike materiaal en na die oop en onbeperkte uitruil van idees en menings. Die menings van bydraers tot hierdie werftuiste is dus hul eie en weerspieŽl nie noodwendig die mening van die redaksie en bestuur van LitNet nie. LitNet kan ongelukkig ook nie waarborg dat hierdie diens ononderbroke of foutloos sal wees nie en gebruikers wat steun op inligting wat hier verskaf word, doen dit op hul eie risiko. Media24, M-Web, Ligitprops 3042 BK en die bestuur en redaksie van LitNet aanvaar derhalwe geen aanspreeklikheid vir enige regstreekse of onregstreekse verlies of skade wat uit sodanige bydraes of die verskaffing van hierdie diens spruit nie. LitNet is ín onafhanklike joernaal op die Internet, en word as gesamentlike onderneming deur Ligitprops 3042 BK en Media24 bedryf.