LitNet is 'n onafhanklike joernaal op die Internet, en word as gesamentlike onderneming deur Ligitprops 3042 BK en Media24 bedryf.
White Rat picture comics
Suzy Bell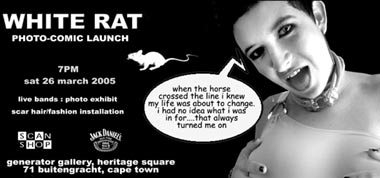 On Saturday, 26 March at 7pm, Suzy Bell's White Rat picture comics will be launched with a party slash exhibition at
Generator,
71 Buitengracht Street
Heritage Square
Cape Town
to promote local creative content in Cape Town. Featuring creativity in the form of the Save us All gospel choir from Kayalitsha, in white fluffy berets, to live Cape Town jazz, soul funk, hip-hop band SupaDan, a Scar Hair fashion installation and Zulu Sushi photographs Scan Shop has blown up images from the picture book for exhibit. Strega is running a bar and people will munch on white rats … marshmallow white rats … reading the first White Rat picture story …. You know a typical art soaked Saturday night in Cape Town.
what is White Rat?
White Rat is sommer a new creative project by Suzy Bell for 2005. It includes publishing a series of White Rat picture stories like those vintage SA picture stories, you remember Kid Colt, Tessa in bikini and high-heels and She… and of course I'm inspired by the super-sonic BitterKomix boyz.
White Rat is also about making creative T-shirts bristling with social commentary and pop-culture speech bubbles, and then later some lo-fi mini-documentaries on ambulance boyz, nurses, art vendors and car-guards -those community players of worth.
how it started and why:
Through my creative writing course at UCT; writer and lecturer Mike Nicol inspired me to write a bloodied gangsta short story and since then I've written a series of short stories. I thought if I publish them in the traditional format they'd just get read by my mum and a few of my mates, so why not introduce and develop a younger reading audience to writing through pop-culture picture stories and pop-culture multi-media events.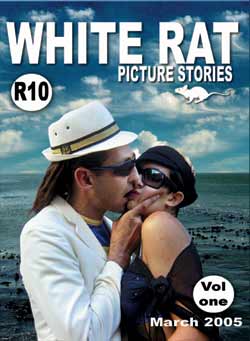 story content:
These stories like Daddy's Girl, Geneva Drive and The Gas Man, reflect a strong local aesthetic, kinda an emotional umbilical cord to my sense of place in Cape Town and Durban … using local actors and creatives … and exploring the cultural identity of SA youth culture. Now I fantasise about having them translated into Afrikaans, French, Xhosa and Zulu. The first issue of White Rat explores dysfunctional white trash. The text marinades in colloquial dialogue, with local identity tags from the latest local tunes to urban street culture. The actors are dressed in SA designer kit like craig native, Geraldine de beer of Skin and Gideon and of course my fun vintage stuff from the local SPCA fetes. The jewellery is all local by olive green cat and the serious glam bling is by GOLD®.
the cast:
The dude with the afro in the suit from the FNB TV advert, is photographer Abdul Moses, who plays the character Puppy Bitch, copywriter Sivu Nobongoza plays Skin, Stan a hardware salesman from Laughton's in Sea Point plays Stan the Driver, filmmaker of My little black heart, Claire Angelique, plays Daddy's Girl and Hen, a circus performer plays Sad Bastard ... fortunately my friends are pretty photogenic. Artist Peter Engblom of Zulu Sushi fame shot the black and white images and played on his computer to spin some cool layout. We did the shoot it in one long day, with the help of lots of Jack Daniels, lots of energy, and seven locations from The Ritz, Teasers to Sea Point swimming pool. Scar Hair did hair styling and Lori Mauerberger of KUGEL did some brilliant make-up. I threw myself into the rest of the fashion styling and production as we had absolutely no budget. Luckily The Scan Shop in Cape Town are co-sponsoring the printing and we have a few fun adverts from Teasers, Strega Restaurant and Gold®.
I aim to bring it out bi-monthly and hope to build up a fab White Rat creative team so it becomes even more collaborative. Hopefully there's a spin off of other creatives making their own wonky lo-fi picture stories ... so we have a generation of stories documented reflecting this historic time where we are grappling with cultural identities and serious issues like Aids and screwed up politicians ... 'mmm maybe we can bring out cool White Rat condoms……..
facts: White Rat is available from white rat publishers: suzybell@iafrica.com
Scar Hair, Giovanni's Lola's cafe, Xupa-Xupa, Strega, and Teazers (all in Cape Town). Bean Bag Bohemia in Durban.
cost: R10 or free with proof of condom in your wallet/purse.
launch: An open party for the White Rat picture book launch - 7pm on 26 March at Generator, 71 Buitengracht, Heritage Square, Cape Town.

Bell's background: former arts editor, now weekly columnist for Tuesday Review… doing an MA in Creative Writing at UCT under supervisor André Brink. working on her first novel, Paradise Valley, and White Rat, a collection of Cape-town based short stories. Bell kick-started the Red Eye art concept at the Durban Art Gallery now in its 5th year … a highly successful monthly multi-media, cross-cultural arts event and she has directed massive multi-media events in Olympic sized swimming pools to construction sites and held a menswear fashion show in a bra factory in Maitland.
LitNet: 23 March 2004