Mike McCullagh's Myths and Legends to rock the Mother City this festive season
Press release: Desirť Goliath (The Baxter Theatre Centre)
Production: Mike McCullagh's Myths and Legends
Featuring: Mike McCullagh (drums and vocals), Karl Hering (bass guitar), Kyle Petersen (keyboards), Gareth Travis (guitar), Richard Black (guitar), Darren Petersen (percussion);
singers Lee Paver, Nazeera Timm, Keenan Arrison, Riyaan Cornelius and the Fezeka School choir
Dates: Thursday 15 December until 21 January 2006
(Low price previews at the Baxter Theatre Centre on Tuesday, 13 December)
Bookings: Through Computicket or the Baxter Theatre Centre on (021) 680 3989. For school and block-bookings, charities, dinner/show packages and fund-raisers please contact Sharon on (021) 680 3962.

Popular Cape Town musician Mike McCullagh's new hit music show Myths and Legends is set to rock the Mother City this festive season from 13 December to 21 January 2006 in the Baxter Concert Hall.
Myths and Legends blends contemporary rock styles with ethnic African flavours to show that music can indeed unite all cultures and overcome barriers.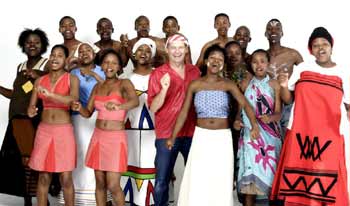 McCullagh, on the drums and vocals, is joined by his five-member band comprising Karl Hering on bass guitar, Kyle Petersen on the keyboards, Gareth Travis and Richard Black on guitar and Darren Petersen on percussion. Singers Lee Paver, Nazeera Timm, Keenan Arrison and Riyaan Cornelius join the rich textures of the award-winning choir from Fezeka Senior Secondary School in Gugulethu to provide powerful sounds.
Well-known classics such as Chris de Burgh's "Spanish Train", The Eagles' "Hotel California", Bob Marley's "No Woman No Cry", Queen's "Bohemian Rhapsody" and the Beatles' "Elenor Rigley", among other popular South African songs like McCully Workshop's "Buccaneer", "Ipi Tombi" and "Paradise Road" will have audiences singing along and jiving in the aisles.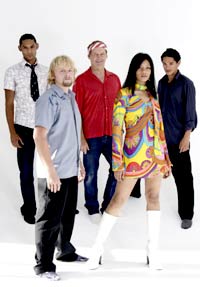 Singers Nazeera (of pop group Afro-Z fame and a Popstars 2004 top 10 finalist), Lee and Riyaan were recently seen in Cape Town in the sell-out That 80's Show.
Mike has put together songs from the 60s through to the 90s which tell stories from all walks of life. With the combination of this dynamic ensemble, he gives rise to an exciting and unique sound – a new dimension in musical theatre.
With hit shows like 60 Something, Station 70, That 80's Show and Milestones to the Millennium having already entertained thousands of South Africans and established McCullagh as one of our most popular entertainers, Myths and Legends promises to delight festive season audiences.
"This is probably my best show," says Mike hesitantly. "The whole show has an African sound which permeates these great hits – the result is an amazing sound."
Expect excellent musicianship, explosive energy and wild audience participation and songs that will have audiences leaving the theatre singing, tapping and dancing.
Continue the party on New Year's Eve and celebrate 2006 with a bang by booking for a special performance which includes entry to the Baxter's Bash immediately after the show.
Book at Computicket or call the Baxter Theatre on (021) 680 3980. For block-bookings, charities, dinner/show packages and fund-raisers please contact Sharon on (021) 680 3962.


LitNet: 07 December 2005
Send your comments to webvoet@litnet.co.za.