"I'm a writer, not a propagandist"

Mike van Graan's highly anticipated, provocative thriller, Green Man Flashing, comes home for its Cape Town premiere at the Baxter Theatre Centre from 25 May to 25 June. Book at Computicket. Click here for the press release on the Baxter's website.
Win tickets to Green Man Flashing!!!

Want to go see Green Man Flashing for free? We are giving away two tickets per night for the five performances from Monday 30 May to Friday 3 June!

All you need to do is send an e-mail to erns@litnet.co.za. Remember to include your cell phone number and also indicate which night you want to go. We will contact you asap, should you be a lucky winner. Also remember that every winner is expected to write a short comment/review of the show and send it to SêNet, our popular interactive forum.
For performances in the first week after the opening, the following incentives have been arranged:
Monday 30 May: Popularly known as "Baxter Mondays", this is the best theatre bargain in the country. For R30, you get a light meal at the Baxter Restaurant and a ticket to the show. These are VERY popular, and it is advisable to book well in advance by calling Sharon at (021) 680 3962 during office hours.
Tuesday 31 May: There will be a lucky draw on the night with five attendees each winning a pair of tickets to the gala opening night (9 July) of the Baxter's forthcoming production of Hamlet, that will be directed by Janet Suzman and that stars leading actors like John Kani, Dorothy-Ann Gould and Rajesh Gopie as Hamlet. Winners will be able to attend the opening night party too.
Wednesday 1 June: This is a night for bookclubs and bookworms. In a lucky draw, we'll be giving away a range of books including signed copies of Zapiro's Long Walk to Free Time, Rayda Jacobs' new book, The Mecca Diaries, The Rock Alphabet by Henrietta Rose-Innes, Judge Edwin Cameron's Witness to Aids and other titles by Breyten Breytenbach, Gabeba Baderoon and Dianne Hofmeyer.
Thursday 2 June: We are planning to give away various magazines to every pair of attendees, including Noseweek, with an opportunity for some to win subscriptions to one or two of the magazines.
Friday 3 June: Everyone will receive a copy of that day's Mail and Guardian and attendees will stand a chance of winning a three-month subscription to the M&G, one of the country's leading newspapers.
Ticket prices are R30 on Mondays (including a light meal), R70 from Tuesdays to Thursdays, and R80 on Fridays and Saturdays. From Tuesday to Thursday – for the course of the run - there are special packages that include a two-course dinner and a ticket for the show at R90 per person. These have to be booked through Sharon at the Baxter's Marketing Department as above. UCT Staff, Edgars clubcard holders and FMR card holders are able to purchase tickets at R50 from Tuesdays to Thursdays on presentation of their cards at all outlets. Group bookings of ten or more, also get tickets reduced to R50 from Tuesdays to Thursdays, so gather a group of friends and get to see the show.
What the critics say:
" … a thrilling human drama … cleverly structured and brilliantly staged …" - Dianne de Beer, Pretoria News, 18 January 2005
" … a brave, honest and clever play … a remarkable play …" - Robert Greig, Sunday Independent, 23 January 2005
" … a play that comes very close to defining the state of our society today" - Lerato Mogoathle, Sunday Times, 23 January 2005
"…Green Man Flashing is a must see…one of the year's theatre highlights" - Kobus Burger, Beeld, 20 January 2005
" … fast-paced and intellectually engaging play about the new South Africa." - Luvuyo Kakaza, City Press, 30 January 2005
" … a tense and gripping political thriller … entertainment for the thinking person" - Mary Jordan, Business Day, 7 February 2005
"Green Man Flashing gets standing ovations with justification ... It is universal and is of the highest international standards." - Ingrid Lehmensich, LitNet, 30 January 2005
Erns Grundling asked Mike van Graan the following questions about Green Man Flashing:
1. In the press release you say, the play has "come full circle". Tell us a bit more.

The play started as a radio drama, and then I adapted it for the stage. It had its first outing as a stage play under the title Slippery Slope as a staged reading as part of the Baxter Theatre's season of new South African works in May 2002. Since then it's undergone significant rewrites, and is now reincarnated as Green Man Flashing. It's come full circle since it started at the Baxter as a staged reading, but also because two of the actors in the forthcoming Baxter production, Andre Samuels and Chris Gxalaba, took part in the original radio drama, which, by the way, was the last South African English radio drama broadcast on SAfm.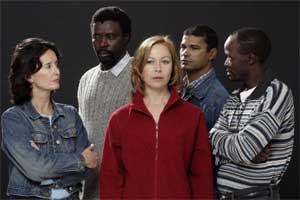 2. Did you expect the play to cause such a stir?
I struggled to get theatres to produce the play originally – even after it won the Jury Award for Best Script at the PANSA/UCT Drama Festival of Reading of New Writing – because they thought it was too controversial. Deep down I knew, though, that there was an audience for this kind of work. It's the kind of things that people talk about at dinner time, or whisper quietly about, but don't talk about openly, because those in authority are so sensitive to criticism. Putting these themes into the public domain through theatre was, for me, a way of contributing to democracy, to advancing freedom of expression, to opening up issues for public discourse.
I had to take huge financial risks to take the play to Grahamstown last year as a reluctant producer (but that seems to be par for the course to get one's work done as a writer at the moment). It just took off at Grahamstown, playing to full houses and to critical acclaim, which means that it must have touched a nerve with audiences. It was very affirming to know that not everybody wants musicals, boy-band tributes and stand-up comedy. And it's been encouraging to get the warm responses from audiences and critics. And now, of course, also from theatre managements ...
3. How did you decide on the play's title, especially since it's regarded as a "thriller"?
To explain the title might just take away from the "Eureka moment" that the audience might have when seeing the play and when the metaphor of the "green man flashing" is explained. Suffice it to say that the title Slippery Slope was a bit bland and boring, so – given the play's filmic nature too – I decided on Green Man Flashing, as it has references to the movie Dead Man Walking, but mostly because the metaphor in the play is probably the essence of what the play is about, ie one has rights, but exercising those rights might have dangerous consequences.
4. Is the play based on a specific event or is it a complete work of fiction?
It is a complete work of fiction, but life has imitated art over and over again since the play was originally written for radio in 2000. The essential premise of the play – the alleged rape of a woman by a senior political figure – has played itself out in our newspapers on a number of occasions, whether in the form of an ambassador allegedly harassing his staff sexually, an IFP politician found guilty of raping his former girlfriend, allegations of sexual harassment against Pieter Marais, or an ANC mayor in a town in Gauteng being found guilty of raping someone in the mayoral parlour.
Of course, the themes of the play are relevant anywhere in the world, and have played themselves out in the USA, in the UK, Australia, etc, but it is of interest for us, because it takes place six weeks before an election and it raises so many questions for us here now.
5. a. Has there been a difference in audience response from a race perspective?
Yes and no. During the run at the Market Theatre earlier this year, we had a Comments Book for audiences to record their responses afterwards. Black and white audience members alike wrote that the play was "thought-provoking", "brilliant", "powerful" and that "all South Africans should see it". Hugh Masekela saw it twice. He bought tickets to see the show two nights in a row and wrote afterwards that the show was "Great".
Then there were a whole lot of other comments – again from black and white people alike – that the show was "brave" and "courageous", implying that the themes that the play was dealing with, and the way in which this was done, would not necessarily find acceptance among those in authority.
So, generally, black and white audiences thought that the production was excellent, that the themes were relevant and that it was timely but potentially controversial.
However, there are black people who think that the play goes too far in digging underneath the rainbow nation's skin, that while the issues may be relevant, it is "too early" to be putting them on stage and that the play is, or may be viewed as, anti-government or anti-ANC. On the other hand, there are white people who think that the play is a sophisticated platform for presenting a sympathetic case for the ANC in the context of various deficiencies that government might be responsible for.
For me that's the beauty of theatre, of the arts, that it allows – and in fact, encourages – people to engage with it from their respective histories, educational levels, political worldviews, moral standpoints, etc. I'm a writer, not a propagandist. I don't write in order to push any party-political agenda, but rather to explore issues of morality, of justice, of human rights and freedoms as they are affected by the exercise of power, and as they affect real characters, real people who have to make choices that have far-reaching consequences, and in very difficult and complex circumstances.
So to answer your question: generally, black and white people who saw the play responded similarly and positively to the stagecraft, to the relevance of the themes and to the necessity for these to be articulated now. But there are some on both sides who, for different reasons, think the production and the acting are excellent, but the themes and issues being dealt with make them feel awkward, uncomfortable, because for them, the play pushes a line that they are unhappy with politically, albeit that they think this from completely different ends of the political spectrum.
b. And from a geographical perspective (Grahamstown, Johannesburg, KKNK)?
I think the similarities and differences articulated above were probably the same at all these locations, but obviously manifested themselves to a greater or lesser extent depending on the racial composition of the audience. Audiences in Johannesburg were probably the most integrated; about 60 percent white and 40 percent black, and yet there were more similarities in responses than differences. I find this encouraging, because I think that it affirms my belief that on some critical issues, black and white people are closer to each other than we generally think or are led to believe. But it requires public discourse and debate and art that pushes against boundaries and pigeonholes to make these forward movements towards a non-racial society where people think and act as human beings, as democrats, as responsible citizens, rather than as white people or as black people.
6. Have you had any feedback from politicians or people in government who might have seen the play? How about a special performance at Parliament?
Parliament already has lots of special performances and performers. And I'm not sure if the actors will accept payment in the form of travel vouchers. Seriously though, I would love more politicians and government officials to see it. I know that some have been avoiding it because they've heard that it's politically controversial, but others who have seen it – including someone quite high up in the office of the president – as well as leaders in various ANC branches, have been very generous in their responses. Again, I find this encouraging, because it reveals a level of political maturity that seems to contradict the general perception – and practice – of political intolerance at some senior levels of government. Suffice it to say that government itself, or the ruling party, is not a homogenous grouping in which everyone thinks the same way: there are some who are more progressive than others, some who are more democratic than others, some who are more confident and secure than others. I know a television programme was trying to get a group of politicians to see the play and then to interview them afterwards, but they struggled to find willing participants. On the other hand, there are some who have responded positively to the invitation to the opening night performance of the play at the Baxter, so we'll see ...
7. a. Are local playwrights dealing with the complexities of our young democracy?
Not anywhere near enough. It's one of my biggest concerns as someone who's been part of organisations trying to advance freedom of expression for nearly two decades. For me, it's ironic that now that we have freedom of expression guaranteed in our constitution, writers are more reluctant to practice it now than when conditions were far more repressive. I think that most writers are shying away from these complexities, from dealing with the contemporary realities – even those writers who were overtly political in their works pre-1994.
b. Is it too daunting a task?
I think that there are a number of reasons. One of the major reasons is self-censorship. White writers are intimidated because they think that if they write anything critical about the status quo they will be labelled or marginalised as racists, or still in love with the fleshpots of apartheid, or unable to embrace a society led by black people. Black writers are intimidated because we now have a government that has political and moral legitimacy, and to be critical of this government is potentially to marginalise oneself from one's former comrades, from the corridors of power, from access to public funding, from official functions and from appointments to public bodies that come with a lot of perks. Also, theatre managements and festival managements have or may become increasingly conservative because they are dependent on public funding, because they all want to be embraced by the new political leaders, some of whom sit on their boards, because they all want to be seen to be moving with the times, and are then reluctant to be associated with works that challenge, that ask awkward questions, for fear of alienating their political partners. If artists get this impression, then they will write safe plays for presentation by these managements. Freedom of expression is trapped under perceived or real intimidation, under the pressure of political correctness, under the fear of marginalisation and by the need of artists simply to survive financially, which then makes them conform to the social and political status quo. If Archbishop Tutu, COSATU and the Treatment Action Campaign can all be vilified by those in authority for questioning or going against the dominant dogmas, then why would artists feel any safer? But it's precisely because of such threats to democracy and freedom of expression that artists need to be at the forefront of advancing human rights and democracy simply by practising them.
c. Why don't we see more plays and theatre in a similar vein to Green Man Flashing?
I think that I've answered that, but I'm also hopeful that Green Man Flashing has helped to encourage other writers to deal with contemporary issues, and there are writers like Martin Koboekae who are doing this in any case. Some of the feedback I've received from other – mainly black – writers is exactly that, that in a way, Green Man has opened up possibilities for them. Generally, though, there are developments that will enhance a movement in this direction, like Mervyn Gumede's book on the president, and Sandile Memele's new novel, which asks deep and uncomfortable questions. It will be interesting to see what happens at Grahamstown this year in terms of seeing where our writers are at.
8. You're often referred to as a "cultural activist". How do you respond to that? Does it often feel as if you're fighting a lonely battle?
I'm referred to as a cultural activist so often, I'm starting to see myself as one. Perhaps if I continue being referred to as a playwright, I could be one too, which is what I would rather be – and have a profile as – than a cultural activist.
I've been doing this activism stuff for a long time now, and while it's necessary given the conditions the arts find themselves in, at a personal level it's emotionally and physically exhausting. And of course, try making a living when you have a profile as a "cultural activist" ...
I participated in a panel towards the end of last year, reflecting on what ten years of democracy had done for the arts. My three fellow panellists were all former colleagues on the Steering Committee of the National Arts Coalition which had quite an influential role in the formulation of new cultural policies in the early nineties. I served as the General Secretary of that body. Interestingly, of my fellow panellists – and former comrades – one served on the National Arts Council (the board of which was mercifully dissolved), one was a senior member of government and another was a leading academic, a professor, while I was still a General Secretary, albeit of a different organisation, the Performing Arts Network of South Africa (PANSA).
The thing about being part of an organisation like PANSA is that it is not a lonely battle, as there are other incredibly committed and supportive individuals around the country. The problem, though (for me personally), is that it's been necessary to provide some kind of continuity between an older generation of cultural activism and a new generation with new challenges. We're in the process of training and mentoring a new tier of leadership within PANSA, and I'm looking forward to "retiring" soon.
9. Tell us about your new play set to première at Grahamstown.
If Green Man Flashing was about exploring issues of morality and power as it relates to those who have and exercise political power, then Hostile Takeover – the play that will première in Grahamstown – is one that explores the nature of morality as it pertains to business and economic power. Green Man is a more serious play, while Hostile Takeover is a satire on current economic themes like black economic empowerment, white-owned businesses selling equity to black partners, and the like. These "heavy" issues are explored with wit and humour through the clash of two companies that exist on the edge of the legal framework: one, an adult club run by a retrenched white former diplomat, and the other, a removals company that specialises in removing people from society. Permanently. This company is run by a former guerrilla who was subsequently retrenched by the integrated SA National Defence Force.
Hostile Takeover was runner-up in the PANSA Festival of Reading of New Writing last year in both the Jury Award for Best Script and the Audience Award categories. I'm hoping for a similar trajectory as with Green Man, ie PANSA Festival, then Grahamstown, then perhaps a national tour if it generates good enough responses. It will have a run at the Market Theatre immediately after Grahamstown. The production stars Martin le Maitre and Lindelani Buthelezi, both of whom may be seen currently in Hard Copy on SABC 3.
10. How do you feel about the future, financial viability and artistic integrity of South African theatre?
I actually think that we've been through the worst. If we've been able to come through and survive the terrible period from 1998 to 2004, then I think that things can only get better. I think that we have a much better minister now than we had before, although the department that he inherited still leaves much to be desired, and so probably inhibits his own effectiveness as the moment. But I think that we're probably moving towards an era where arts practitioners will find ways of producing and distributing their art that are not dependent on government. If government comes to the party, then it's a bonus, but it is no longer – and should no longer be – seen as a primary ally of the arts. They've just let us down too badly and too often till now.
As for the future, I'd like to think that it is one that we can shape ourselves, obviously with a range of partners in the international community, festivals, private sector, etc, but also through greater co-operation among and support for one another within the theatre sector. I'm optimistic, if only because I'm blinded by the fact that I have two plays happening right now, which I'm aware is unusual, and a real privilege. But then I'd like to think that it's because there is an audience for and an interest in theatre that challenges, that stimulates, that asks hard questions, but that does so in a way that is theatrical and entertaining.
So, I'm cautiously optimistic. WE have incredible talent, vision, experience, passion and a capacity for hard work in the theatre industry, or in the creative aspects of the industry. We should transfer even a small bit of that to shaping and sustaining the macro-conditions, strategies and structures to support the creation and distribution of theatre locally and abroad, and then I think that we'll be in a much healthier position. But it is up to us – theatre-makers and administrators – to do this. We must do it ourselves, not rely on others who don't have the vision or interest.



LitNet: 25 May 2005
Wil jy reageer op hierdie resensie? Stuur kommentaar na webvoet@litnet.co.za om die gesprek verder te voer op SêNet, ons interaktiewe meningsruimte.