LitNet is 'n onafhanklike joernaal op die Internet, en word as gesamentlike onderneming deur Ligitprops 3042 BK en Media24 bedryf.
Amadeus: a sumptuous feast for eyes, ears and mind
Yvonne Banning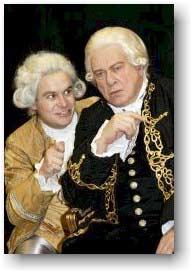 A stunning new production of Peter Shaffer's Amadeus, directed by Lara Foot Newton, opened at the Baxter Theatre last Wednesday, 22nd March. The opening night was a sumptuous feast for the eyes, ears and minds of the audience, which left me delighted and satiated.
It is rare in these days of lean budgets for the arts to encounter a production with such a large cast that is supported by such lavish and detailed production values in a locally funded production. Here we had a welcome glimpse of the high quality of skills, expertise and knowledge in the areas of visual design, lighting, sound, costume and, above all, directing, that vest in local theatre practitioners. All are impeccably selective, detailed and integrated in a graceful simplicity that belies the complex subtlety of concept and realisation.
This Amadeus captures visually and aurally the fine tensions between restraint and excess, intellect and passion, individual ethical vision and corrupt social practices that mark Shaffer's biting social analysis of 18th-century manners and morals. In its orchestration of theatrical elements, the production echoes the intricate patterning of Mozart's music, evoking music as a metaphor for God, and words and actions as the means of revealing both the heaven and hell of human nature.
Since the play was first presented in 1979, it has become a major play in the canon of modern European play texts, which challenges directors, actors and audiences alike. Its narrative centres round a perceived rivalry (based on sketchy historical evidence) between the established musical composer of the age for the aristocracy, Salieri, and the young musical prodigy Mozart. The story is told through Salieri as narrator. He speaks his most private thoughts and feelings directly to us on the last day of his life. As the story unfolds, the play becomes part whodunit (or, more accurately, did/didn't he do it?); part philosophical meditation on the nature of good and evil and reward and punishment; part historical evocation of the spirit of the age of reason; part debunking of the myths of genius; and part seduction by music. But always it celebrates the impetuous and often anarchic impulses of the creative arts.
It is a play of epic proportions – and extreme length. Shaffer simply does not know when to stop; and I wished Foot Newton had been bold enough to cut some of it, towards the end, where the assured ironic energy of the writing loses some of its force by diminishing the tensions between heart and head.
The design uses the full depth of the Baxter stage, allowing Foot Newton to choreograph intricate formal groupings, action sequences and tableaux which are an aesthetic delight in themselves, and to develop multiple frames and perspectives for the thematic understandings these invite. A formal symmetrical structure with opulent decorative detail forms the main architectural element of the space. This is used flexibly to create different locations: the grand entrance way between the public and private rooms of the emperor's palace, the boxes in the auditorium of the opera house, the Viennese street between the magnificence of the court and Mozart's impoverished home.
The visual formality very powerfully points to the rigid formality of the social order and hierarchy of this milieu. Against this, Foot Newton unleashes the rampant gossip in the whispering chorus of the opening scene, where rumour spreads like wildfire about Salieri's complicity in Mozart's death. The two principles of reasoned order and passionate impulse shape the movement of the whole play. Mozart's anarchic presence continuously disrupts the carefully sustained and fragile order of his society, and of Salieri's own personal goals and accomplishments. It also reveals just how threatening to the status quo the sexual, emotional and musical energies simmering beneath this calm surface can be.
In her assured direction, Foot Newton plays out these contradictory forces vividly with her actors from moment to moment. Theatrically she never misses a beat; tonally the control is nuanced, ironic and precise; vocally and visually the production is witty, moving, thought-provoking and sensuous. It yokes extremes together, each holding the other in a precarious – and yet sustained – critical balance. It is gloriously and self-consciously theatrical, and not afraid to be so.
The performances are all integrated into a strong ensemble, each sounding specific notes in the whole orchestration of the production. Collectively they give a bravura demonstration of a skilled and disciplined understanding of style, function and purpose. Individually each offers particularity, energy and a contagious pleasure in what it does. This is a company to delight in, indeed!
Among these, Jeremy Crutchley's Emperor Joseph II was a particularly shimmering gem. His precisely detailed and smoothly understated comedic characterisation was masterfully placed and played. The two Venticelli – purveyors of the latest news and gossip to Salieri – were also utterly delicious, both individually and as a duo.
But the evening depends primarily on the portrayal of Salieri. Brian Murray in this role confirms his reputation and stature as a mature and accomplished international actor. In a performance of astonishing technical virtuosity, Salieri grows and transforms before our eyes into a man of multiple contradictions. In his self-declared private war against God he reveals himself as irredeemably human: needy, greedy, courageous, malicious, autocratic and despairing. Betrayed by his very capacity to hear the divine in music, yet unable to give voice to the divine himself, he recognises and confronts his own mediocrity.
Murray's portrayal of savage self-condemnation as both prosecutor and victim of an Old Testament God is devastating precisely because he will not pluck our heartstrings too readily, but because he holds our hearts (and his own) in the gritty shackles of his mordant humour to the last. There is no relief in catharsis for him, or for us. Salieri's God is truly made in Salieri's own image, both fallible and all-powerful. This was an austerely shaped, yet fully physicalised performance, exquisite in its clarity and range of human qualities (with occasional reminders to us to notice his actor's virtuosity!). He invested Salieri with an intellectual rigour and an emotional and physical stamina and resilience that were impressive. I and others in the audience were intrigued as to whether or not the fall from the wheelchair was choreographed or accidental – either way it was a moment of sheer theatrical magic!
Nick Pauling's Mozart was equally rich and complex in its characterisation. I have always regarded this role as almost unplayable with any degree of reality, because of the outrageous extremes it encompasses between the bawdy, sexually precocious child and the pure unmediated voice of the divine. But here it was, fully realised and heartbreakingly real. From Mozart's first entrance, chasing Constanza in a sexually-driven child's cat-and-mouse game, through his naive unconsciousness of court etiquette, his inspired conducting of his music, his struggle to become a responsible father and husband, to his increasing bewilderment and desperation in the face of his misfortunes, to the final scene of his death, Pauling continuously added new dimensions to each successive scene. This is a young actor coming into his own. Watch him!
This is a production that will appeal to audiences who have any interest in the best that theatre can make. It is a banquet. See it.
Amadeus is on at the Baxter from 17 March to 15 April.



LitNet: 28 March 2006
Wil jy reageer op hierdie resensie? Stuur kommentaar na webvoet@litnet.co.za om die gesprek verder te voer op SęNet, ons interaktiewe meningsruimte.