An Ordinary Day
Deborah Steinmair

District Six
An Ordinary Day
Author: Graham Ellis
Publisher: Self-published
ISBN 9780620350358
Price: R120

"Some people in pictures
I never learned their names
They remain
As anonymous as shame"

On an ordinary day in 1972 Graham Ellis, a medical student at the time, walked through the ruins of District Six while bulldozers were demolishing buildings. "Through the lens of an old Pentax, my privileged eye observed the paradox of obscene destruction, the innocence of children playing in the streets, the remains of an enduring human spirit."
Much has been written about the late District Six. Nostalgia for this once vibrant community has become almost clichéd, like paintings of cosmos flowers and sculptures of guinea fowl. For a privileged white man to publish a book of District Six memories is quite a daring feat that could easily be construed as voyeurism, as waltzing through the pain of another in order to gain political or artistic credibility.
This is not the case with An Ordinary Day. The book is understatedly beautiful, unassuming and utterly moving. The author refers to it as "my small personal essay on a much larger, more enduring and tragic historical legacy".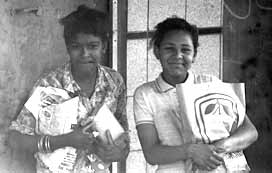 Graham, an internist, poet, photographer and short-story writer, has recently written poems to accompany the photographs of 1972. Reading this book is reminiscent of leafing through a photo album of somebody else's past. In this technologically advanced age, the photographs are delightfully unsharp, with a homely feel. The emphasis is on people.
The poetry complements the photographs perfectly. Ellis's words and images are crisp, evocative and simply beautiful:
"A church, a mosque
An unlit lamp post,
Reminders of lives that slipped
Through their own
Upturned hands."
District Six, An Ordinary Day is an object of beauty, the kind of irresistible book that one picks up in a bookshop, doesn't return to its shelf and wants to keep close to one.
The book was self-published by the author and any profit will go to the District Six museum as well as the Noluthando School for the Deaf in Khayelitsha. The book is available in major bookstores and can be ordered from grahamellis@mweb.co.za.



LitNet: 24 January 2006
Have your say! To comment on this review write to webvoet@litnet.co.za, and become a part of our interactive opinion page.