LitNet is 'n onafhanklike joernaal op die Internet, en word as gesamentlike onderneming deur Ligitprops 3042 BK en Media24 bedryf.
Indulge in Come to the table
Michelle McGrane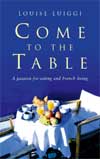 Come to the Table
A Passion for Eating and French Living
by Louise Luiggi
Piatkus
R110
July 2005
ISBN 074995065X
Come to the Table is an invitation by Louise Luiggi to feast on food and life. In an evocative memoir, this charming, passionate Englishwoman animatedly describes how breaking the rules, letting go, escaping routine, convention and order allowed her to start cooking and enjoying the wonders of harmonious flavours. "Discarding my despotic cookery books and banishing the lists they breed was the most liberating feeling ever," the author admits.
In Come to the Table, Luiggi details her fascination for the complex and powerful process of transforming basic culinary ingredients into a dining experience, embracing food as an integral part of life and an initiator of ultimate well-being.
I have no detailed revolutionary recipes, sophisticated cooking skills or flashy kitchens and trendy gadgets. There are only experiences, memorable meals, shrewd kitchen observations and temperamental chefs to help guide you towards renewed culinary inspiration. There are no simple answers. A love of food, cooking, eating and mealtimes comes from within, once the intimacy of family life and a friendly circle of companions has been gently nurtured and lovingly developed.
Louise's journey begins at eighteen when she leaves her home in England to move to the chic Paris 8eme arrondissement as au pair to the three young children of an English banker and a Catholic journalist of aristocratic Normandy origins.
I experienced many new things in Paris - the underground world of the Metro, invigorating, bouncy bus rides across the vast cobbled Place de la Concorde, the spaceship plumbing of the Centre Pompidou, eating hot chestnuts along the romantic Champs-Elysees - and yet a simple "green" salad of purple-tinged lollo rosso, spiky bitter frisee, softened with deep green lettuce, copiously coated with a sharp mustard vinaigrette, managed to conquer all in the radical breakthroughs I made at this youthful time of my life.
The author's sojourn in Paris is followed by a year spent as a student at the Ecole Superieure de Commerce in Toulouse, La Ville Rose, so called because of the abundance of distinctive red-brick buildings and monuments which turn the city pink under the glare of the balmy midday sun. It is at the ecole that she meets her future husband, the swarthy and sociable Corsican, Stephane Luiggi.

The reader travels with Louise as she explores the profoundly beautiful, wild, savage terrain of Corsica and grapples with her new husband's demanding extended family and their age-old traditions and culinary habits. Luiggi's lyrical and evocative descriptions of life in Paris, Toulouse and Corsica will satisfy the appetites of most armchair travellers.

Upon the couple's return to England, the author's developing ardour for nutritious sustenance and all things French culminates in the opening of French Living, an eclectic café, shop and restaurant in Nottingham, England, which she co-owns with her husband. The free-spirited team established French Living in 1994, transposing a portion of French culture to England. They opened a restaurant in the basement two years later and their staff are on hand to offer advice while providing a relaxed ambience in which to shop, eat, chat and practise one's French.

Come to the Table is not only entertaining, it is informative. The author's uncomplicated prose weaves enchantment around even the simple composition of a cheeseboard:
We discovered how to compile a well-balanced, perfectly proportioned cheeseboard, choosing at least four but no more than five different cheeses to provide a variety of textures and flavours to suit every taste: a soft bloomy-rind cheese such as Camembert or Brie, a hard cheese such as Beaufort, Comte or Cantal, a blue cheese, maybe Roquefort or Bleu d'Auvergne, and then possibly a goat's cheese, a firm, crumbly, bluey, mouldy Crottin de Chavignol or a fresh, creamy Pelardon disc.

Le plateau de fromage is an integral part of the French table; meals are selected and balanced to make sure that everyone will have enough appetite left to enjoy the cheese. In contrast to its English counterpart, the French cheeseboard is far from being the focus of an exclusive male moment, dominated by large proud chunks of masculinity to be savoured with a glass of port and a cigar. Men, women and children all participate in the interlude before dessert, selecting tiny slivers from all the textures on display, delicately choosing a neat arrangement of cheese to place on some freshly baked bread, prolonging the savoury flavours of the meal before the contrasting sweet finale makes its dramatic entrance.
This book is an indulgent eight-course meal consisting of "La Salade", "The Convivial Cassoulet", "Stews", "Soup and Pasta", "Le Plateau de Fromage", "Les Legumes", "Les Soirees Decouvertes", "Picnics and Parties", and "Chocolat". A handy six-page glossary of French phrases and culinary terms is supplied after the epilogue.

Although Luiggi's debut is a memoir, not a cookbook, recipes are sprinkled liberally through the book, including many French classics such as Onglet a l'Echalote (steak) and Mousse au Chocolat. I read the instructions for dishes such as Tian de Moules au Celeri, La Fondue Savoyarde, Pigeonneau Poele au Cidre and Poire Vin Rouge with fascination. For someone who has to be dragged into the kitchen kicking and screaming, they trip off my tongue like exotic poems.

In A Taste for Adventure, Oliver Wallace wrote: "To be a true adventurer in the realm of taste you do not have to be a gourmet. You must, however, be appreciative and receptive, with a salt and peppering of curiosity and experimentation." Luiggi is a true adventurer who regards every meal as an opportunity to celebrate. Her fresh, bright writing style and keen appreciation of the sensual aspects of life are intoxicating. Come to the Table will feed your hungry spirit, get your creative and culinary juices flowing, and introduce a myriad of colours, succulent flavours, distinctive aromas and contrasting textures into your life.
Once the full potential of food, its miraculous ability to bring people together, to resolve upsets, even to control relationships, is understood, then and only then will cooking become a real pleasure and a fulfilling part of life.
Louise Luiggi's energy and enthusiasm are infectious. If Come to the Table doesn't have you dashing into your kitchen, it will at the very least put you in a good mood and have you considering what elements of French living you can introduce into your own life. The French writer Veronique Vienne wrote, "The only difference between an extraordinary life and an ordinary one is the extraordinary pleasures you find in ordinary things." Consider when last you treated yourself to an extraordinary meal.

Light the candles, turn on the music, pour the wine, take your time…

Bon appetit!

* * *

Mousse au Chocolat

For 6 people, put 100ml of water and 300g dark bitter chocolate pieces (preferably at least 50% cocoa) in a bain- marie and let the chocolate melt, mixing well.
Mix in 50g of castor sugar and a couple of drops of vanilla essence.
Take the pan off the heat and allow to cool down slightly. Separate 4 eggs and add the yolks to the mixture, gently stirring them in.
Beat the egg whites, add a pinch of salt and then whisk until firm. Incorporate the whites into the chocolate, gently folding with a spoon in order to prevent the whites becoming liquid.
Let the mixture cool in the serving bowl in the fridge for 2 hours. It is even better if eaten the next day, and superb with delicate, crumbly biscuits such as Les Gavottes, a Brittany speciality of folded crepe biscuits.

- Louise Luiggi, Come to the Table



LitNet: 12 September 2005

Have your say! To comment on this review write to webvoet@litnet.co.za, and become a part of our interactive opinion page.