Art for Humanity's "Women for Children" project
Press release
Children's rights, like the voice of the women in South Africa, Africa and large parts of the developing world, remain invisible. To address this reality, Art for Humanity (AFH) has initiated the Women for Children project. AFH wishes to raise awareness around the issue of children's rights and to inspire a sense of "moral ownership" and social responsibility towards the rights of children.
AFH and partners have invited 20 women artists and 20 poets primarily from South Africa and the developing world, but also from the international community, to create art and poetry with the intention of inspiring moral ownership of the rights of the child. Each poem will be translated into another South African language, to promote multilingualism and diversity.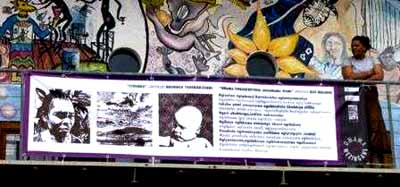 World Children's Day 2005 (20 November) was the official exhibition opening of the project. The exhibition was opened by Ms Ntombazana Botha, Deputy Minister of Arts and Culture. Entertainment for the event included poetry readings from poets participating in the Women for Children project: Bandile Gumbi, Marií Peté, Michelle McGrane, Charl Fregona and Tei Fregona, as well as a breathtaking performance of Flatfoot Dance Company's Transmission: Mother to Child.
The exhibition at the Durban Art Gallery will run during the sixteen days of activism against gender violence campaign. The print portfolio includes contributions of etchings, linocuts, digital and mixed media prints created specifically for the campaign. Each artwork is accompanied by a poem in dialogue with the art, communicating a strong message on the rights of our children.
The art and poetry created by the participants will be reproduced in the form of a public advocacy campaign which will be presented as billboards that will be flighted in public areas such as bus and taxi ranks throughout the region and elsewhere.
Included in the advocacy campaign are posters featuring the art and poetry collaborations, which will be distributed to clinics and non-profit organisations working in the field of children's rights and which will also be launched into an outreach exhibition campaign that will go to schools and libraries in outlying areas, making the art and poetry accessible to the greater public and not restricted to gallery-going audiences. In this manner the work will sustain itself and speak to future generations in the same manner that the art from previous generations speaks to us today.
In 2006 Art for Humanity will continue with the billboard campaign as well as organise further exhibitions of the Women for Children project around South Africa.
Art for Humanity, formerly Artists for Human Rights, has initiated a number of successful campaigns involving well-known and emerging artists creating art around various issues. For more information go to: www.afh.org.za or contact AFH on (031) 203 6610 or at afh@dit.ac.za.



LitNet: 13 December 2005

Have your say! Send your comments to webvoet@litnet.co.za, and become a part of our interactive opinion page. Or submit your own poetry to Michelle McGrane for consideration.