LitNet is 'n onafhanklike joernaal op die Internet, en word as gesamentlike onderneming deur Ligitprops 3042 BK en Media24 bedryf.
Weekend Special Report — the unconfirmed story that Brenda Fassie had died …
Laugh it Off looks for answers ...
On Sunday, May 2nd, during the 7am news broadcast, 5fm and Metro FM report that Brenda Fassie has allegedly died:
South African pop legend singer Brenda Fassie has allegedly died. Sources say Fassie's family has decided to take her off the life supporting machine that was keeping her alive at the Sunninghill hospital.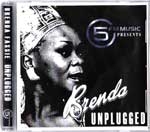 Unplugged: 5fm Music report prematurely that Brenda Fassie had died
The Star reporter Caiphus Kgosana is assigned to cover the story. He tries to get comment from 5fm, but none is forthcoming. Condolences begin pouring in, and Fassie's enraged manager, Peter Snyman, says he is "appalled by the state of journalism in this country". 5fm's report, coupled with the sensational Sunday Times headline "It's over for Brenda", sends the country into a confused tailspin.
Was she really dead? No, she was just brain dead. But that wasn't right either. Fassie's family denied ever discussing the shut-down of the singer's life support system.
So who wrote that bulletin? Who were the "sources"? Journalists are usually so eager to claim a byline, but a phone call to the SABC newsroom started an intriguing trail of denial and double-takes:
A high-profile 5fm staffer said that he knew nothing about the bulletin, but that if it existed, it had been read on Metro FM. He also knew nothing about The Star's story, which singled out 5fm as a culprit.
Staffers at the SABC, Africa's creative pulse, weren't as creative as 5fm in denying that the story had ever really existed. A bureaucratically bumbling herd of bucks were passed as red herrings were followed until eventually we got hold of SABC News's line producer, Vusi Sithole. He knew what bulletin we were talking about, but laughed at suggestions that the SABC lacked accountability. Pippa Green, head of SABC Radio News, has still not returned our numerous calls …

An "alleged" death? The rule of thumb for responsible journalism — in this case a news broadcast — should be "when in doubt, find out". And if you can't find out, leave it out. Likewise, the "sources" mentioned in the bulletin could be anyone from hospital "deep throats" to SABC's janitors. An inaccurate, unchecked story started a landslide of premature public grief, causing unnecessary pain to Fassie's family and friends, culminating in a presidential criticism of the South African media's confused handling of the story, given its ongoing sensitivities.

Our favourite national broadcaster was all too happy then to run the story "Mbeki says media should stop speculating about Brenda" — the irony of which is lost in the aftermath of increased AMPS ratings and newspaper sales.

Despite major media coverage of the event, and plenty of criticism from family, friends and our esteemed head of state, no official complaint was laid with the Broadcasting Complaints Commission (BCCSA). This means that the matter will not be investigated further. We can expect more incidents of speculative, irresponsible journalism going unchecked, while calls for media accountability remain unanswered.

Perhaps it is time for tax payers to shell out for another TV-broadcasted commission where the guilty parties take the stand as we are regaled with stories of journalistic principle and protocol, "protection of sources", and "no comment" smokescreens that will, one day, bring the entire industry's credibility to its knees. It may not be news, but it sure is expensive entertainment!



LitNet: 27 May 2004

Have your say! To comment on this piece write to webvoet@litnet.co.za, and become a part of our interactive opinion page.
© Kopiereg in die ontwerp en inhoud van hierdie webruimte behoort aan LitNet, uitgesluit die kopiereg in bydraes wat berus by die outeurs wat sodanige bydraes verskaf. LitNet streef na die plasing van oorspronklike materiaal en na die oop en onbeperkte uitruil van idees en menings. Die menings van bydraers tot hierdie werftuiste is dus hul eie en weerspieël nie noodwendig die mening van die redaksie en bestuur van LitNet nie. LitNet kan ongelukkig ook nie waarborg dat hierdie diens ononderbroke of foutloos sal wees nie en gebruikers wat steun op inligting wat hier verskaf word, doen dit op hul eie risiko. Media24, M-Web, Ligitprops 3042 BK en die bestuur en redaksie van LitNet aanvaar derhalwe geen aanspreeklikheid vir enige regstreekse of onregstreekse verlies of skade wat uit sodanige bydraes of die verskaffing van hierdie diens spruit nie. LitNet is 'n onafhanklike joernaal op die Internet, en word as gesamentlike onderneming deur Ligitprops 3042 BK en Media24 bedryf.