Cape Town International Jazz Festival 2006
First artists on the bill announced
Press release

The 7th annual Cape Town International Jazz Festival, which is now acknowledged as the biggest Jazz event on the African continent, will once again take place at the Cape Town International Convention Centre (CTICC) on Friday 31 March and Saturday 1 April 2006.
Festival director Rashid Lombard and his organisation team, espAfrika (Pty) Ltd, are more than confident that the 2006 staging of this popular festival, which has become affectionately known as "Africa's Grandest Gathering", will be as successful as the previous festivals and will again feature a world-class line-up of jazz and jazz-related artists.
This is the third time that the Cape Town International Jazz Festival will be staged at its spacious and classy new home at the Cape Town International Convention Centre (CTICC).
The 2006 festival will again feature a spectacular bill of 40 acts, split equally between the African and international contingents, performing in five different venues situated around the Convention Centre. There will also be the traditional free concert on Greenmarket Square for the people of Cape Town before the festival on Thursday 30 March.

With almost four months to go till the eagerly anticipated weekend musical party in March, espAfrika have already announced the first list of artists who will be appearing at the 2006 Jazz Festival. Artists already confirmed include: Manu DiBango & Soul Makossa Gang, Chucho Valdés Quartet featuring Mayra Caridad Valdés,Tina Schouw and Friends, Charlie Hayden Quartet, Freddy Cole, Louie Vega and his Elements of Life, LIVE featuring Blaze, Anane & Luisito Quintero, Nestor Torres, Terence Blanchard, Tribute to Ray Charles featuring Joe McBride, Gerald Veasley and Kenny Blake, Miriam Makeba (Grand Finale Tour), Sipho "Hotstix" Mabuse, Relax, Omar Sosa Quartet featuring Pee Wee Ellis, RJ Benjamin, Mario Canonge Trio featuring Horacio El Negro Hernandez, Caiphus Semenya, Heads Up Superband featuring Joe McBride, Gerald Veasley and Kenny Blake, Unofficial Language featuring Paul Hanmer, Ian Herman and Pete Sklair.
Born in Douala, Cameroon in 1933, Manu DiBango has talents that range as widely as saxophonist, pianist, marimba-player, composer and arranger. Love of jazz on the one hand and traditional African music on the other prompted Manu to experiment by combining various styles of music to create his own unique blend. With his inherent curiosity and sensitivity, Manu has always been interested in widely divergent and different styles of music. A cursory listen to his output bears this out: jazz, reggae, rap … all of these and more are in full effect.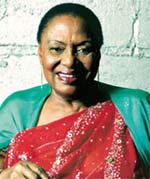 The appearance of Miriam Makeba's name on the bill will evoke both excitement and some sadness amongst her many fans. Now regarded as one of Africa's greatest artists, "Mama Afrika" has recently been considering retiring from live performances after an international musical career spanning 50 glorious years. So her third appearance at the Festival is sure to be one of the most emotional performances of the weekend.
Apart from Miriam Makeba, the African contingent is looking as strong as ever. The distinguished South African musician, producer, musical director, composer and arranger Caiphus Semenya will be making a welcome appearance. There are many jazz fans who would like to honour Caiphus Semenya's lifetime of work as a performer and arranger of African music following his exile from SA in the '60s with his wife Letta Mbulu and fellow exiled musical compatriots Hugh Masekela, Jonas Gwangwa, Hotep Galeta and Miriam Makeba, amongst many others.
Internationally acclaimed jazz trumpeter Terence Blanchard will be paying his first visit to the Festival. This Grammy-nominated musician has recorded a string of great albums, including Let's Get Lost, Wandering Moon and Flow for Sony and the prestigious Blue Note label, and has worked on film soundtracks for Spike Lee.
Another big name on the bill is that of pianist/vocalist Freddy Cole, whose music bears close resemblance to the sounds of his illustrious brother, the legendary Nat "King" Cole. Cole doesn't apologise for sounding like his brother - there are certain unmistakable similarities. He plays piano and sings and performs live with guitar and upright bass, just like Nat did. Yet his voice is raspier, smokier, jazzier even. But he has emerged from the awesome shadow cast by his elder brother. In truth, his phrasing is far closer to that of Frank Sinatra or Billie Holiday than that of his brother, and his timing swings a little more. His vocals - suave, elegant, formidable, and articulate - are among the most respected in jazz. Cole's career continues to ascend as he's moved into the front ranks of America's homegrown art form with a style and musical sophistication all his own. His most recent CD, This Love of Mine, also on the High Note label, was released in mid-June 2005 to enthusiastic fans
Among the African contingent of artists is the acclaimed band Unofficial Language featuring Paul Hanmer, Ian Herman and Pete Sklair. SA pianist Paul Hanmer, who has built a successful solo career, beginning with his exceptional piano roots jazz exploration album called Trains To Taung, also performs with The Sheer All Stars.
RJ Benjamin is an emerging jazz artist who is currently getting loads of attention and airplay with his cover of the Oasis track "Wonderwall" off his recently released album Who I Am.
Tina Schouw is one of South Africa's finest female jazz vocalists who first came to the attention of her many fans with the release of her unique debut album Bleed.
Sipho "Hotstix" Mabuse is a successful performer who first appeared in the African soul group Harari before launching his successful solo career and bursting on to the SA music scene with his massive mbanqanga pop hits of the late 1980s, "Burn Out" and "Jive Soweto".
Other exciting international names to watch out for include the Chucho Valdés Quartet featuring Mayra Caridad Valdés. Now a well-known name in world music circles, Chucho Valdés has been dubbed "the ruling king of Latin jazz keyboard" and is a member of the famous Valdés Cuban musical family.
Latin Grammy award winner Nestor Torres is a master flautist and composer who hails from Puerto Rico and whose music has been described as being "like a rich sancocho, a stew of tropical, Caribbean flavors"!
Mario Canonge is a piano virtuoso from Martinique whose music has been described as Salsa Creole and which is an aural tour of Afro-Caribbean musical styles from zouk to bolero to jazz and salsa. His last album, Rhizome, featuring Roz Hergrove and Richard Bona, was successfully released in June 2004.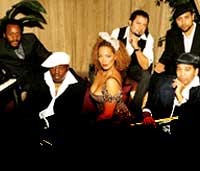 Louie Vega's Elements of Life 12-piece project mixes fresh and organic house beats with Latin and African music, featuring vocalists Blaze, Anane and Luisito Quintero on percussion. Vega has found his personal turning point with Elements of Life, his first true solo artist album, set for a March release. The godfather of house music makes a commanding stand behind the stage-top turntables, with Latin bass-lines disco grooves. Masters at Work (MAW), which comprises Vega and partner Kenny "Dope" Gonzalez, was nominated for its remix of the Latin Project's "Lei Lo Lai", which reached No 1 on Billboard's dance chart last fall.
It is only on rare and important occasions that Heads Up International recording artists Kenny Blake, Joe McBride and Gerald Veasley come together for special performances as the Heads Up Super Band. But these three talented musicians will be performing at the Festival as the Heads Up Super Band, and then they will also be performing their acclaimed "Tribute To Ray Charles" set.
Finally, the Cape Town International Jazz Festival 2006 welcomes back Relax, the live-soul-hip hop sensation from the Netherlands who released their second album, 'Odeur de Clochard, early in 2005. The band, which toured SA in 2002 to promote the Live In Amsterdam album, also made a memorable appearance at the OppiKoppi festival. Relax also performed at the Drum Rhythm Festival, Lowlands, and at the North Sea Jazz Festival in The Hague before making an unforgettable appearance at the 2003 Jazz Festival in Cape Town. They will be warmly welcomed back to the Mother City.
espAfrika will be releasing more names as they become available, but even at this early stage, with artists of this calibre already confirmed, it is looking like the line-up for the Cape Town International Jazz Festival 2006 will be as outstanding as in previous years.
Ticket prices remain the same as last year at R399 for a two-day pass and R260 for a one-day pass, excluding the "Rosies" stage, where tickets will sell for R20 per performance.
Computicket bookings will open at the end of December.
The demand from both South African and international jazz fans for tickets, trains, flights, accommodation and travel packages for the sell-out Festival has already begun. The organisers have been working with SAA to make a large variety of travel packages available. Details of these are available from SAA at +27 11 978 1144 or on their website www.flysaa.com.
All line-up updates and other Festival info can be found at the official Festival website at: www.capetownjazzfest.com.
The Gold sponsors for the Cape Town International Jazz Festival 2006 are SAA, SABC and Standard Bank.
Speaking on behalf of Standard Bank, Khanyi Mlambo, Director of Group Sponsorships at Standard Bank, said, "Standard Bank is pleased to be involved with the Cape Town Jazz Festival as a Gold Sponsor for the 2006 event. To contribute and play a part in helping to bring a world-acclaimed line-up to the stages of Cape Town is part of Standard Bank's vision of sharing a passion of jazz with our customers as well as jazz lovers around the country."
Dali Mpofu, the GCEO of SABC, said, ''The SABC as a public broadcaster is proud to once again be one of the Gold Sponsors of the Cape Town International Jazz Festival (…) The SABC welcomes the opportunity to support an initiative that resonates with our public mandate, namely the preservation of our culture, celebrating our South African roots, music and creativity. We are particularly pleased to support the Festival's focus on developing and supporting local talent while at the same time exposing our people to international talent. The SABC will, through its various radio and TV platforms, support this grand gathering."
Other, Secondary Sponsors and/or funding principals include Alliance Francaise, Ambassade De France en Afrique Du Sud, Ambassade van het Nederlanden, Cape Town Routes Unlimited, Cape Town Partnership, City Of Cape Town / City Improvement District, Department of Arts and Culture (National), Department of Cultural Affairs and Sport, Institut Francais d'Afrique du Sud, SA Mnimo, Port Operations, Swedish Jazz Federation and Telkom.
For further information visit the Cape Town International Jazz Festival website.





LitNet: 01 December 2005
Send your comments to webvoet@litnet.co.za to start a discussion on SêNet, our interactive opinion page.