Bed on Bricks is one of Cape Town's hottest live music acts. Featuring some of the most popular and seasoned musicians in the country, Bed on Bricks entered the scene with a bang almost a year ago. Click here to see where they will be performing in the near future!
It's just got a nice ring to it and makes for nice mental imagery.

2) How did you, Dave van der Linden, Schalk van der Merwe and Tim Rankin get together to form Bed on Bricks?

I initially approached Schalk and Tim and mentioned that I wanted to start a fresh and super funky new band. I had ideas of a raw (-ish) sound in the mould of bands like B-World/Zap Dragons/Nine (local 90s bands). These were bands that really inspired me in a huge way. I felt that the SA market needed that kind of sound again, as a lot of what comes out today is quite formulated and over-produced. Dave was the perfect fit as a guitarist, as he also came from that time and played in a band called Shooting Corine. It all started with a phone call and the rest has followed …

3) Last year the title track of your first album, Humanarium, was crowned as South African Rock Digest's "Song of the Year", and at this year's KKNK you were nominated for an award in the category "Best Performance: Pop, Rock & Jazz". The band has also received many rave reviews. Are you pleased with the response to your work so far?

For sure! It really has taken off a lot faster than I expected! It's been a combination of experience/contacts/hard work and believing in the music that we play. I think that people enjoy what we have to offer because we've got a great live show, a killer album and we don't take ourselves too seriously!

4) With the second album, If You See Kay, on its way, what can fans expect? Have you made any plans for after the release?

The new album is going to be different from the last in that it's a bit heavier but with some serious funk grooves! We're continually expanding our sound and discovering ourselves as a band, so I'm very excited as to what is going to come out!

We're flying a producer out from San Francisco to record and it'll be mastered in New York. Hopefully we can get a BIG foot in a USA door, so that's the short-term plan … Locally we'll tour after the release and punt, punt, punt!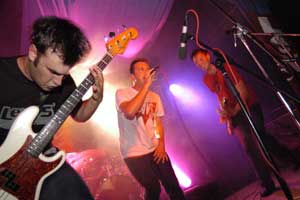 5) The band's live performances have an electric atmosphere. What would you say is the secret to getting the whole crowd so excited that they can't help but boogie, jump, sing and chant along?
Like I mentioned before – we don't take ourselves too seriously and always give it 150 percent. Crowd participation plays a huge role in our show and I reckon folks enjoy being a part of the experience! We like to just get down and play some good solid tunes and we're very approachable. There's a very relaxed atmosphere and everyone feels welcome.
6) Do you have any favourite venues or perhaps a favourite town or city where you most enjoy performing?
Stellenbosch has been very good to us. I reckon it's kind of like our home base. Cape Town is a close second. We're still spring chickens when it comes to the rest of the country, so we're yet to find out our favourite venues/towns. It also depends on the night and the crowd (and on how many tequilas we've had!).
7) Is there any one gig that stands out as having been really enjoyable or, on the flip side, a gig that you would not like to relive?
Kirstenbosch gardens was a great gig for us. Otherwise, various Stellies gigs have been extremely memorable – especially our first one at the Mystic Boer, where Dave broke three strings in the first song! I can't recall any nasty gigs (too many tequilas?).
8) With a KKNK nomination in the bag and with Stellenbosch described as your home crowd, you appear to have quite a number of Afrikaans fans for a mostly English-speaking group with only English songs. Would you ascribe your apparently broad fan base to anything in particular?
I reckon our music just appeals to both markets, really. Good music is good music and has no boundaries. We play a lot with bands like Karen Zoid and Fokofpolisiekar and there are a lot of English fans who dig them. To me the whole soutpiel vs Afrikaner thing is of the past and folks from both sides are more open-minded and just respect good tunes.
9) Bed on Bricks is branded as a certain mix of jazz, funk, reggae and rock. What would you mark as your main influences in creating this unique sound?
A combo of everything. I'm personally influenced by a lot of local artists. I think this local flavour mixed with our broader influences makes our sound what it is. The collaboration of all our ideas and where we all come from gets chucked into the Bricks's big musical pot and stirred … sometimes the shit gets burnt and sometimes it comes out perfectly!
10) You've been involved in the South African music industry for a number of years, first with Sons of Trout and now with Bed on Bricks. Do you think any important developments have taken place since the late nineties which have impacted the industry in a positive way?
What I'm seeing is an interest in local music from the corporate sector. Companies are looking for new ways to market, and the SA music scene, in the bigger scheme of things, is relatively untapped. Look at Arno with his car ads and our Levi's endorsement, Appletiser (Kirstenbosch), and Cell C, to name but a few. Bands are also going the independent route because, let's be honest, SA record companies are really not interested. There is money out there for artists – it's just a matter of them (the artists) becoming more business-minded and learning how to market their product.
11) Where do you see South African music going on the international stage? Any plans for Bed on Bricks specifically?
We hope to get to the States. That's where our market lies. SA music is ready for the international stage, but the artists need to get breaks locally which could give them a boost into the international arena. We need to change the public's opinion about local music so we can gain full respect and support to allow our artists to get to the international level. My biggest criticism about a lot of local content is the LACK of LOCAL. This is a big problem, 'cos all the kids are exposed to is what they hear on the radio. The majority of content on the radio is American crap (my opinion), so ultimately this just gets regurgitated. We as South Africans have a lot to offer in terms of original content that is unique to the rest of the world – we must USE IT! It's just a matter of time before it breaks – look at Australia or even New Zealand.
12) You've gigged with Delta Blue a number of times and Albert Frost has also played with Bed on Bricks as a guest artist. Which are your favourite South African bands and how important do you think it is for bands to mix it up and join with other groups when gigging?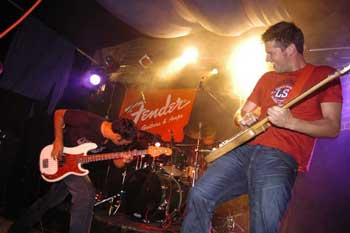 Look – we're all in this together, so the sooner we put aside our differences as musicians the better. We've all got a lot to offer and stand on a shaky infrastructure as it is – so unity is strength. Play and learn with and from each other if the opportunity presents itself. There are lots of bands that I enjoy, but it's important to realise that I don't necessarily have to like a band to offer respect and to take pointers from it. Some of the biggest influences in my lyrical style and approach are local … there's not enough lettering on this keyboard to name all the bands that I like!
13) When did you decide that you wanted to be a musician and how did you make it happen for yourself? Did you have particular people in your life that encouraged or supported you?
I was about 16 when I told my folks that I wanted to grow my hair, pierce my ears and play in a rock band as a profession. They laughed and said the usual "not under my roof you won't". Today they, along with the rest of my family, are my biggest supporters. I just got involved with bands and pissed the neighbours off time and time again until I eventually started making progress. It just keeps getting better and better … the music, that is, not the cash!
14) The Levi's sponsorship of the band seems to be going well, with official Levi's T-shirts with the Bed on Bricks logo on their way. How many sponsorship opportunities are available for South African bands and how hard is it to land such an opportunity?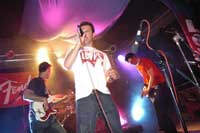 I touched on this point earlier. Musos need to rearrange their head-space and see their music as a product. There is no difference between your CD and Heinz Baked Beans (besides the obvious). Don't wait for sponsorships to come to you – you have to go to them and convince them that by investing interest in you their product will benefit. Sell yourself. Most companies still don't know anything about the local music scene, so one has to create opportunities. Business is business. Long gone are the days when you get signed and sit back with a chick under each arm and a big spliff and get everything done for you. When you're U2 maybe, but initially it's about what you put in! A lot can also be done on minimal budget and UNDERGROUND advertising. The internet is a huge marketing weapon which, if used effectively, can be awesome!
15) A lot of your songs contain social commentary. Do you believe this to be an important element in music, rather than music simply being a medium for entertainment?
Whatever boils your kettle. It's important for me to have social commentary, because it's MY way of expressing my views and opinions on certain issues. It's MY way of being creative – not necessarily the RIGHT way. When someone comes up to me after a gig and says, "I really dig that line you sing, the one that goes … it makes me see things differently now" – that's a huge compliment for me. To have actually had an effect on someone's life, no matter how small, is very rewarding! That's why I do what I do … for that one little bit of feedback (and of course some free tequilas!).
I also think that it's important to have music that's purely entertainment and not deep and meaningful! We as humans need a form of release as our days are so full of stress and worry – what better way to do it than get on the dance floor and shake your pip around for a couple of hours (with some tequilas of course!).
16) Where do you see Bed on Bricks five years from now?
ON TOP OF THE WORLD!!!



*Ingrid Strasheim is a first year graphic design student at Stellenbosch University and an ardent rock fan.



LitNet: 9 July 2004