Rebel Angel is a tender, humorous and informative account of the life of John Keats
Michelle McGrane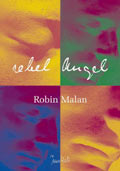 Rebel Angel by Robin Malan
Junkets Publisher
First published 2005
ISBN 0-620-33950-0
Retail price: R120
I feel confident I should have been a rebel angel had the opportunity been mine.
- John Keats in a letter to Benjamin Haydon,
10,11 May 1817
Robin Malan's beautifully presented Rebel Angel is a tender, humorous and informative account of the life of John Keats - one of England's most beloved sons and wordsmiths - beginning with his early boyhood years and going through to his untimely death from tuberculosis in 1821.
The front cover of Malan's high-quality publication consists of images of the plaster-cast life-mask of John Keats, made by the artist Benjamin Robert Haydon in 1816 and held at the National Portrait Gallery in London.
In Rebel Angel John Keats is portrayed as a fiery, intrepid, determined, yet intensely sensitive character. His life story is largely one of the triumph of spirit over adversity. Keats is the eldest of four children. His father dies when he is eight and his mother - who exerts a tremendous influence on his life - dies when he is fourteen. He is forced to leave school after his mother's death, yet shows great strength of character and resolve in keeping his family together and pursuing a career as a doctor.
Keats writes his first poem, Imitation of Spenser, at eighteen after he is inspired by the work of the sixteenth-century poet. His first work is published in 1816 in The Examiner and it is the editor of The Examiner, Leigh Hunt, who affectionately gives Keats the nickname Junkets. At the age of twenty-one, after training for six years to be a doctor, Keats decides to give up medicine in favour of his passion - poetry. He longs to earn a "place among the English Poets".
Rebel Angel abounds in imaginative literary anecdotes. Malan relates Keats's walk on Hampstead Heath with his friend, Percy Bysshe Shelley, which resulted in his long poem Endymion. Malan likewise tells of a meeting between young Keats and the "Poet of the North", William Wordsworth, in 1818.
Throughout his life, Keats is a dedicated and entertaining correspondent. Authentic extracts from letters and poems are cleverly used to draw the reader into his world. Clearly, Malan is fascinated by his subject, whom he has extensively researched. He skilfully transmits his interest to the reader.
Rebel Angel chronicles Keats's extraordinarily close relationship with his two younger brothers, George and Tom. When George emigrates to America with his wife, and Tom, the youngest Keats brother, dies of tuberculosis, John is bereft. Malan also describes many of the friendships that play an important role in shaping Keats's destiny, together with his only serious romantic involvement, with Fanny Brawne.
In 1819, Keats writes the poems "La Belle Dame sans Merci", "Ode to Psyche", "Ode on a Grecian Urn", "Ode to a Nightingale", "Ode to Melancholy", "Ode to Indolence" and "To Autumn". The reader is given the opportunity to journey through the conditions in which Keats produces his finest work, the poems that finally are to earn him a "place among the English Poets".
A year later, the ailing Keats travels to Italy with one of his devoted friends, Joseph Severn, in order to escape the harsh English winter. He dies in Rome at the age of twenty-five and is buried in the Protestant Cemetery outside the city. Before Keats's death, his friend and former editor, Leigh Hunt, is reported to have written to Severn, "Tell him he is only before us on the road, as he was in everything else."
Robin Malan has written Rebel Angel with a young audience in mind. The book is written in an enjoyable, accessible style and will be of benefit to anyone interested in learning more about Keats, his upbringing and influences. I feel sure I would have been more inclined to tackle this poet's work when I was younger, had I had the opportunity to read Rebel Angel as an introduction to him.
In explaining his decision to write and publish a book about the life of an English poet in present-day South Africa, Malan says, "We read every day, and we hear on radio every day, about some youngster totally overcoming the most severe drawbacks and achieving wonders. I think Keats's story is one of those, and I want young South Africans to read about him and feel 'Hey, I could do that!' As like as not, they, like him, will go out and do it. And I want them to know that you can achieve in whatever area you choose to Ö like, you can be a poet!"
Rebel Angel will be available at all the better bookshops or direct from Junkets Publisher. For further information on Rebel Angel and other writing by Robin Malan, write to Junkets Publisher, 11 Winchester Road, Mowbray 7700, Cape Town, or email info.junkets@iafrica.com.



LitNet: 01 June 2005
Would you like to comment on this book review? Tell us about it. Write to webvoet@litnet.co.za and join our interactive opinion page!
Do you have a short story you'd like to submit for consideration? Send it to sharon@litnet.co.za.