Thought-provoking and playful exhibition
Bell-Roberts Contemporary Art Gallery
89 Bree Street
Cape Town
Opening: Tuesday 25 April at 18:00
Opening speaker: Pippa Skotnes
Duration: 25 April to 20 May 2006
Viewing hours: Weekdays 08h30 - 17h30, Saturdays 10h00 - 13h00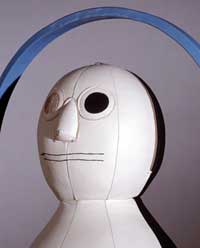 Power Play is Johann van der Schijff's first solo show since completing his post-graduate studies in The Netherlands nine years ago. A six-month sabbatical from his position as lecturer in new media at the Michaelis School of Fine Art results in this thought-provoking and playful exhibition.
New media theorist Lev Manovich suggested that making a choice involves a moral responsibility, and Van der Schijff takes this as his cue to examine power relationships in society. What he is aiming at in this exhibition is for the viewer to be forced into a position of choice in their engagement with the work ("shall I hit the blow-up doll / punch bag or not?").
The meticulous workmanship and finishes are important in the reading of the work, and are aimed to emulate and appeal in the same way as objects in designer-lifestyle shops or motorcar display floors. Production of the work has been facilitated by computer-aided design and manufacturing techniques with its roots in the military-industrial complex.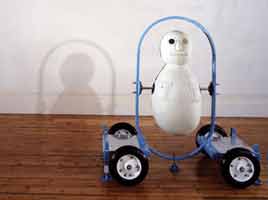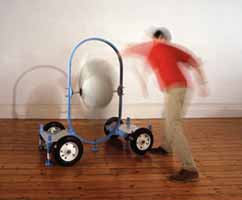 LitNet: 06 April 2006