LitNet is 'n onafhanklike joernaal op die Internet, en word as gesamentlike onderneming deur Ligitprops 3042 BK en Media24 bedryf.
Win a recipe book
Hillcrest Berry Orchards in Stellenbosch have donated a book full of delicious recipes for us to give away this month.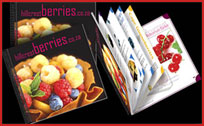 About the book:
hillcrestberries.co.za is a book about berries that is both informative and mouth-wateringly beautiful. 110 pages packed with recipes, culinary hints, nutritional information and quirky quotes. Each page sparkles with illustrations that capture the sun-filled health-giving qualities of berries.
"South Africa's first cookbook devoted to berries will make a splendid, scrumptious souvenir of visits to Hillcrest, of its berried treasure, of the beauty of the setting in this stunning part of the Boland..."

MYRNA ROBINS 2005
About the authors:
Both Raymond & Betty came to the "berry business" from very different professions. Raymond was in the business of Human Resources and Public Relations for 14 years and Betty had an academic career in French and Francophone African writing. But their diverse training and experience has stood them in good stead as they have slowly built up a successful business with its own personal stamp. From packing fresh berries in their kitchen they now supply countrywide their fresh and frozen berries, berry jams, condiments and sauces, as well as exporting to niche markets. But the kernel of the business remains the farm where visitors can enjoy the unparalleled setting from the restaurant terrace.
Here's how to win!
Send an email to sharon@litnet.co.za and tell us the name of Michael Olivier's berry recipe.
Visit the Hillcrest Berry Orchards website for more information about the farm, and don't forget to take a look at their mouthwatering recipes too!
To buy your own copy of the book or as a delightful present for someone click here!
Click here for Michael Olivier's column, Notes from my Kitchen Table.



LitNet: 22 November 2005
© Kopiereg in die ontwerp en inhoud van hierdie webruimte behoort aan LitNet, uitgesluit die kopiereg in bydraes wat berus by die outeurs wat sodanige bydraes verskaf. LitNet streef na die plasing van oorspronklike materiaal en na die oop en onbeperkte uitruil van idees en menings. Die menings van bydraers tot hierdie werftuiste is dus hul eie en weerspieël nie noodwendig die mening van die redaksie en bestuur van LitNet nie. LitNet kan ongelukkig ook nie waarborg dat hierdie diens ononderbroke of foutloos sal wees nie en gebruikers wat steun op inligting wat hier verskaf word, doen dit op hul eie risiko. Media24, M-Web, Ligitprops 3042 BK en die bestuur en redaksie van LitNet aanvaar derhalwe geen aanspreeklikheid vir enige regstreekse of onregstreekse verlies of skade wat uit sodanige bydraes of die verskaffing van hierdie diens spruit nie. LitNet is 'n onafhanklike joernaal op die Internet, en word as gesamentlike onderneming deur Ligitprops 3042 BK en Media24 bedryf.