ANNAKE DE VILLIERS DEBUT CD LAUNCH OF U-TURN
WHEN: SUNDAY, OCTOBER 9 AT 15:00
WHERE: TRADING STORE, 131 HIGH STREET GRAHAMSTOWN
ENTRANCE: R60 p.p. (INCLUDES WINE AND APPETIZERS)/R30 STUDENTS with ID
BOOKINGS: 046 622 9988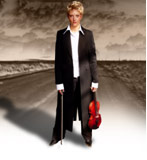 "U-Turn" is a collection of Latin, Cuban and traditional songs as well as Annake's debut CD and the start of a solo career after playing with international artists such as Helmut Lotti and Josh Groban.
The album consists of 13 tracks, of which quite a few have a Latin feel depicting the musical influence Annake experienced living in Brazil for almost a year and a half. E.g. "Scent of a Woman Tango", Astor Piazzolla's amazing "Libertango" as well as the incredibly exciting Cuban song called "Havana Slide".
The two Afrikaans tunes, "Mannetjies Roux", made famous by Laurika Rauch and Anton Goosen's big hit "Harlekyn" originally sung by Sonja Harold, will make anybody's dancing feet itch.
What makes this album different from other instrumental releases is the contribution of phenomenal South African guest artists. They include Jannie Moolman (tenor) who features in two duets namely the very beautiful theme from "Il Postino – Mi Manchera", as well as a tango version of "O Sole Mio".
For the rockers out there – you can hear a guitar and violin rendition of "Parisienne Walkways" and "Final Countdown". South Africa's most adored and respected guitar virtuoso, Mauritz Lotz, plays the solo guitar on these tracks.
Join Annake de Villiers and concert pianist Mariel Ilusorio, for selections from "U-Turn" and an afternoon of wine, cheese and appetizers.
As part of the Trading Store music initiative all ticket proceeds go to three worthy young teachers and performers working in Rhini (Grahamstown township). They have been selected based on their common determination to provide a music foundation for themselves and others amidst the significant challenges of township life.


LitNet: 06 Oktober 2005
Wil jy reageer op hierdie bekendstelling? Stuur kommentaar na webvoet@litnet.co.za om die gesprek verder te voer op SęNet, ons interaktiewe meningsruimte.