LitNet is 'n onafhanklike joernaal op die Internet, en word as gesamentlike onderneming deur Ligitprops 3042 BK en Media24 bedryf.
>>>
| | | |
| --- | --- | --- |
| Linda Se Boekpraatjies | | Linda's Bookchat |
I can't help being an acid queen, I was born that way
Linda Nell
Apologies to all that this column has been a bit long in coming. I'm going to blame it on that cute, bespectacled youth, Harry Potter, winter sale time and the big twice-yearly stock-take. The books for review this time are also a little more bulky and challenging than previous ones have been. This time round we've got something for those of you who like to get your teeth into a good piece of well-researched academic writing, balanced with a little acid queen frivolity for those who like to laugh at themselves but more especially at others.
Born gay: the psychobiology of sex orientation by Glenn Wilson and Qazi Rahman
Click on the book cover and buy it now!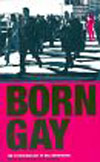 Publisher: Peter Owen Publishers
ISBN: 0720612233
Publishing Date: 2005
Pages: 200
Format: Softcover
Price: R259.95
In April I heard from the sales representative at Stephan Philips publishers that there was a new book being released which would make an important contribution to the debate about the causes of homosexuality. I asked for a review copy then and there, because such books are pretty rare: as far as I know there's been nothing new around on the general market since the groundbreaking work of Simon LeVay in 1991 (Queer science and The sexual brain). I still remember that this notion that there may be a gay gene, and that gay men's brains appeared to be different from those of straight men, created quite a stir.
I must admit that, unfortunately, I never read these books at the time. In fact, I don't generally read science books at all, being rather lazy to use my brain too much when I read, especially when it involves getting to grips with theories way beyond the Grade 9 science that I managed to scrape through. Hence it was a very pleasant surprise to find that I actually enjoyed Born gay and gained quite a bit out of it. To be honest, I did skip a technical paragraph here and there when they were going a little over my BA head, but that in no way detracted from the central information and message which the authors are trying to convey.
The book reviews (most thoroughly and effectively) the research on the biological causes of homosexuality done to date, including the authors' own extensive studies, and then comes to the following conclusions:
a) sexual orientation does not appear to be affected by social factors at all
b) genes influence sexual orientation, although they can as yet not be clearly identified
c) prenatal sex hormones released during pregnancy seem to play an important role in the development of sexual orientation
d) the brains of gay men and lesbians are cross-sex-shifted in certain respects
e) it is possible to predict sexual orientation early in life.
Furthermore, the authors wish to dispel once and for all the notion that homosexuality is a genetic disease and hope that if society can accept the theory of a biological cause, it may become more accepting of gay people. They are under no illusion, however, that this will naturally follow, but do point out that any shift in thinking would help, as many public attitudes and legal policies are founded on the assumption that homosexuality is acquired or learned. In reaching these conclusions, they present many fascinating facts and theories, including the one regarding the relatively high probability of a boy being born gay if he has many older brothers and the typical male index finger to ring finger length ratios prevalent in many lesbians. Of course I had to check my own and was quite astounded at the result.
I have to say that I found myself impressed with the thorough and balanced nature of the book and its quiet persuasion. The authors by no means claim to have all the answers, but rather attempt to show that a number of biological factors combine to cause a person's sexual orientation (precisely how is still up for debate and further research). With each new chapter and (sometimes quite entertaining) example I found myself experiencing a subtle internal shift toward greater acceptance. Perhaps greater self-acceptance on the part of the gay person is the key to effecting greater societal acceptance, and this book can go some way towards facilitating this. All in all a worthwhile and thought-provoking read.
Magical thinking: true stories by Augusten Burroughs
And now for something more relaxing and far less scientific. In fact, "magical thinking" is what psychologists call the belief that one exerts more influence over events than one actually has, as illustrated by the author's belief that he controls the world – and thus, for example, his prospective employer's or boyfriend's decisions – with his mind. As I said, a lot less scientific.
Click on the book cover and buy it now!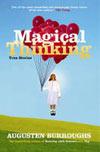 Publisher: Atlantic Books
ISBN: 1843543621
Published: 2005
Format: Softcover
Price: R140.00
For those of you who don't yet know Augusten Burroughs: What the heck is your excuse? He only created one of the most fabulously eccentric, crazy and hilarious autobiographies of all time in Running with scissors, which he followed up with one of the most entertaining memoirs on beating addiction (and what a gorgeous ad agency retro-funky jacket design!) in Dry. So if you haven't yet read these, now may be a good time. Or otherwise start with this one and work your way back – then you're really in for a treat.
Magical thinking is a collection of humorous essays and sketches on Augusten's life as it is lived in funky New York, the Hamptons or the quaint log cabin in the countryside where he recently moved with his partner, Dennis. I really grew to like and admire Dennis. I don't think it can always be easy to live with an egocentric ex-alcoholic ad exec turned New York Times number 1 best-selling author who doesn't have much common sense and can cause severe lacerations with his sharp tongue. But then again, the boy's wit and acute observation, cute bod and handsome face more than make up for it, I'm sure. That and the fact that he truly is crazy about Dennis and not afraid to admit it. Though there are some hilarious dates, one-night stands and crushes which he has to get through before he finds The One.
And then there are his little foibles and phobias: his extreme fear of the rat/thing in his apartment which he traps in the bath and tries to murder in manner most foul, and his belief that as a child he was kidnapped from the Vanderbilt family, because how else could one explain his natural affinity with the fine and beautiful things in life? The story about his protracted and painful love-hate relationship with his fussy cleaning lady stirred in me laughter mixed with uncomfortable feelings of déjà vu, as I have had my own encounters with powerful ladies who had me trawling the supermarkets for specific cleaning materials or types of bread.
I am a fan of Burroughs's work, and although I rate Magical thinking slightly less highly than his other autobiographical works, I still found it good, witty entertainment in the true gay New York style. Very Will and Grace, or should that be Jack & Karen?
LINDA NELL gaan voortaan dikwels Afrikaanse en Engelse boeke aanbeveel. Sy sal skryf in die taal van die boek onder bespreking. Uit haar lewensbesonderhede blyk dit duidelik waarom ek haar gevra het vir so 'n rubriek:
"Ek is gebore in Pretoria, maar het gelukkig snorloos daarvan afgekom. My hoërskooljare was een lang soektog na 'n seksuele ontwaking, sonder veel sukses, maar wat anders sou 'n mens verwag van 'n klein dorpie in die Natalse Middelland? Lekker verengels en nog steeds in die kas, ontsnap ek toe na die Groot Stad Durban, waar ek my BA Honneurs verwerf en uit die kas gekruip het. Ná 'n jaar se nagraadse Selfsoek op Stellenbosch, het ek via die biblioteekwese in die Boekwêreld beland en in verskeie winkels gewerk, onder andere Wordsworth Gardens en Exclusive Books Bloemfontein. Vandag, tien jaar en 'n paar liefdesteleurstellings later, is ek gelukkig 'getroud', bestuurder van Exclusive Books Tygervallei en woon in Durbanville."
LitNet: 11 Oktober 2005
NOTA: Ek ontvang graag reaksie op hierdie teks. Stuur dit na dbbotha@mweb.co.za.
DANIE BOTHA