LitNet is 'n onafhanklike joernaal op die Internet, en word as gesamentlike onderneming deur Ligitprops 3042 BK en Media24 bedryf.
>>>
| | | |
| --- | --- | --- |
| Linda Se Boekpraatjies | | Linda's Bookchat |
Have strong constitution, will travel
Linda Nell
South Africa's top sites: gay & lesbian by Philip Harrison
Click on the book cover and buy it now!


Publisher: Spearhead P.
ISBN: 0864865686
Publishing Date: 2005
Pages: 144
Format: Softcover
Price: R95
Click here for the chance to win a copy of this book!
Cape Town is so cold this year I think I want to go somewhere else. And when I get there, I don't want to waste precious shopping and dining time trying to find out where all the gay and gay-friendly places are. But as you all know, there isn't much available out there, except in pamphlet or newspaper format, and then most of the featured places have paid for the privilege. Good thing, then, that there's a new book on our shelves which provides comprehensive info on all the best places for gay and lesbian travellers to go in our beautiful country, especially as South Africa has the kind of gay-friendly image that attracts all sorts of pink currencies and foreign bodies to our shores. Spearhead (an imprint of New Africa Books) has recently published a series of specialist travel guides called South Africa's Top Sites, the most saleable of which (in my opinion) is the Gay and Lesbian one.
It has many great features. The guide covers each of the nine provinces and the author has clearly done extensive research. I found the first part of the guide, which sketches a brief history of homosexuality in South Africa, interesting and illuminating, and just long enough. As for the rest of the guide, I made a point of checking the entries on the cities that I have lived and partied in, and found Cape Town and Bloemfontein to be pretty spot on. I asked a gay male friend to double check Cape Town for me and he was suitably impressed. Amongst other things (as many of you already know) Cape Town has South Africa's only Gay Village (there are over 30 around the world, according to this guide). We did, however, find that some of the venues have closed down or changed, but the author is careful to point out that the nature of the gay scene is changeable and that local listings should be checked or investigative phone calls made. In the cases of Pretoria and Durban, there really seems to be very little in the way of gay only places, so if the research is accurate, I find that to be a lamentable change since I frequented these cities a few years back.
Any local or international tourist will find lots of useful information, from the contact details for guesthouses, restaurants, self-catering accommodation, sites of interest and even suitable places of worship for the religious traveller, to fascinating historical snippets and potted biographies of South Africa's famous activists, drag queens and other fabulous personalities. And never fear, boys, you are informed of the best cruising spots and their relative safety. Thus this little book comes in handy not only for all the practicalities, but also for something to read while you wait for that gorgeous waiter to bring your vanilla latte before you head off to Sandy Bay to sample the wonders of nature. My only gripe is that, in comparison with similar text-heavy guides, the layout is a little monotonous and the paragraphs and columns a little too long to be optimally reader-friendly; and the few photographs that there are, are not of the best quality. A pocket format may have been a better idea, adding value to the package, so to speak.
Book give-away!

New Africa Books is giving away two copies of
South Africa's top sites: gay & lesbian
by Philip Harrison.
All you have to do is
send an e-mail
to
sharon@litnet.co.za
and the
e-mail addresses of any friends
you think
MUST
know about Gay@LitNet to stand the chance of winning!
Sex lives of the famous gays by Nigel Cawthorne
Click on the book cover and buy it now!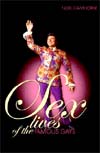 Publisher: PRION Books
ISBN: 1853755540
Publishing Date: 2005
Pages: 264
Format: Softcover
Price: R154.95
This book is also part of a series and I eagerly picked this one up, having dipped into previous offerings such as Sex lives of the Popes and Sex lives of the Hollywood goddesses. I am a fan of Cawthorne's style - he delivers the most graphic detail with that typical British "Carry on" type humour. This book is not for the faint-hearted, but luckily I have a strong constitution and a sense of obligation to the readers out there.
Here you will find conveniently short biographies of many famous gay men, leaving out all the boring bits and cutting straight to what counts: when, where and how they did it, and with whom. Marcel Proust, for instance, had a peculiar little fetish. He would watch a young male prostitute "do it himself", as it were, and then finish (quite literally) with the spectacle of two starving rats attempting to devour each other in front of his eyes. EM Forster seemed to have quite a chaste life in comparison, doing much yearning for the lower classes and not fully engaging with their nether regions till relatively late in life. Liberace seemed quite a sweet chap who tried to go straight but couldn't face the music. In contrast, there were the really naughty boys of British literature, Auden, Isherwood and Orton, who really knew how to get down and dirty with dozens and dozens of lads.
This is an entertaining book that doesn't take itself or its subjects too seriously, so if it's insightful social commentary or the analysis of the politics of sex you're after, you'll be disappointed.
On its way soon is Sex lives of the famous lesbians. Of course, I might not be half as tolerant of the lack of political correctness then Ö


LINDA NELL gaan voortaan dikwels Afrikaanse en Engelse boeke aanbeveel. Sy sal skryf in die taal van die boek onder bespreking. Uit haar lewensbesonderhede blyk dit duidelik waarom ek haar gevra het vir so 'n rubriek:
"Ek is gebore in Pretoria, maar het gelukkig snorloos daarvan afgekom. My hoŽrskooljare was een lang soektog na 'n seksuele ontwaking, sonder veel sukses, maar wat anders sou 'n mens verwag van 'n klein dorpie in die Natalse Middelland? Lekker verengels en nog steeds in die kas, ontsnap ek toe na die Groot Stad Durban, waar ek my BA Honneurs verwerf en uit die kas gekruip het. NŠ 'n jaar se nagraadse Selfsoek op Stellenbosch, het ek via die biblioteekwese in die BoekwÍreld beland en in verskeie winkels gewerk, onder andere Wordsworth Gardens en Exclusive Books Bloemfontein. Vandag, tien jaar en 'n paar liefdesteleurstellings later, is ek gelukkig 'getroud', bestuurder van Exclusive Books Tygervallei en woon in Durbanville."
LitNet: 05 July 2005
NOTA: Ek ontvang graag reaksie op hierdie teks. Stuur dit na dbbotha@mweb.co.za.
DANIE BOTHA