The Infuriating Fable of Phillipus Viljoen
Andries Vrey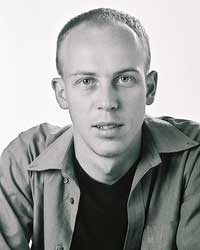 Die verhooginkleding: middelverhoog, 'n houtkombuistafel met stoele; links agter, 'n vertoonkas met foto's en ornamente; regs agter, 'n tafel met kombuisbehore (ketel ens).
Die verhoog is verdonker. Die musiek begin en die ligte word daaronder ingedoof. Wanneer die musiek bykans uitgedoof is, kom Phillip die vertrek van regs agter binne. Hy is 'n jongman van iets in die dertig, stylvol dog konserwatief geklee. Hy trek 'n baadjie uit en hang dit oor een van die stoele. Die ketel word aangeskakel. Phillip gaan sit by die tafel; uit die baadjiesak haal hy 'n begrafnisbrief. Hy begin dit lees, en dan, meteens, raak hy bewus van die gehoor se teenwoordigheid.
Tussen die vertelling deur hou Phillip hom besig met "kombuisdinge" - maak koffie, ens.
PHILLIP: You know, I really don't like funerals. Too dramatic for me. Rather give me a private cremation with, at most, an intimate wake for family and friends. These big boerebegrafnisse just doesn't work for me.
The worst of course is the groetery at such an event.
God, you know, I mean, why do people feel the need to turn a funeral into a reŁnie? It's terrible.
It just pisses me off, you know, the way family, or supposed family, storm you like African warriors and tell you who they are, where they come from and how much they've heard about you, or, even worst, how long it has been since they had last seen you when, by the way, you still had the oulike boy's cut hairstyle and the cute little corduroy trousers with the white stripes.
Rather an intimate wake with family and friends for me, thank you.
I mean, half of them anyway only show up for the toebies and koeksisters in the kerksaal afterwards and to hear the latest geskinder. Not to mention the bleddie sopsoene you get from anties, ooms and niggies and nefies you've never even seen or heard from in your life.
It's disgusting.
Well, luckily I don't really have a problem with the sopsoene: I mean, you don't kiss a moffie at his partner's funeral, if you know what I mean. Not because you don't want to. Hell, if only you knew how many ooms showed an interest in me since the time I flung open the closet doors (happily married ooms, I might add), but in the presence of others, and out of fear, I suppose, you don't want to be seen kissing a moffie - especially a skinny moffie at his lover's funeral.
It's just not on. Soos koekies in die weeshuis.
It was a beautiful funeral, though. Johan had it all planned meticulously, like everything he always did. Jis, you know, even our monthly grocery shopping excursions could not escape his knack for planning. He'd even set up a shopping list according to the way the aisles were ordered at the Hyperama. That way, he used to say, by simply sticking to the logic of the way shops pack their shelves one could avoid the frustration of having your dog food or household chemicals in too close contact with your food.
Fok, and you should have seen him explode at the till if the packers, quite by accident, packed the Sunlight liquid in the same bag as his marshmallows. "Do you eat soap?" he once shouted at a confused packer until she finally broke out in tears. Ooh, he was a terror if you rubbed him up the wrong way. Shame, afterwards though, he felt so bad that he went and bought the packer a bunch of flowers - the nicest little posies. "Toe, toe, toe, " he said, "stop 'ie snot en trane. Just remember, people don't want their soft sweets to be all soapy by the time they relax with them in a steamy bath with their Bubbo-lux foam bath, okay?"
Shame.
Ja, he had the whole thing planned. To the last detail. He even chose his coffin himself, but because of a white-ant plague in KwaZulu-Natal there were no yellow-wood available, so in the end I decided on the nice darker cherry-wood. I'm sure he wouldn't mind. I did get them to fit it with the same light pink satin lining he had asked for, though.
And he wanted to wear his white manel suit that he bought for his matric farewell, but, shame, he had lost so much weight that he said to me during his last week, "Ag no, Koeks," he said, "I look like an old slap piel in 'n gebreide kondoom in this suit", so we decided to rather dress him in the blue suit, the one he had bought on a buy-one-get-one-free special at Coquis Men's Outfitters. Ag jirre, man, he looked so handsome. I've still got a photo of him in that suit somewhere - I think it was taken at his sister Rita's little daughter Charmain's christening. (Hy soek in die laaie ens. na die foto. ) He was so proud that day, you know. He really adored little Charmain. He didn't even bother when the little thing kotsed up all her milk over his shoulder. (Hy kry nie die foto nie.) No, I can't find it. Ag, jirre, where had I put the damn thing? (Gooi tou op met die soekery.)
It was hard, you know. I mean, helping him plan his funeral. I remember the day we had gone to the funeral parlour, I sat in the lobby reading some magazine - ag, I can't remember, I think it was called The Daily Death or something, I don't know, I don't know ... but I was still sitting there reading an article on a British company looking at the possibility of renting out fancy coffins and then digging you up and reburying you afterwards in a cheap knotty pine kissie, when Johan made his entrance from the large room where they exhibited all the coffins. He had been in there for over three hours getting in and out of all the coffins to find out which one would suit his posture best.
"Stop reading," he said to me, "you might as well start testing them out yourself. It's not as though you have an eternity left - and I'm not letting you get in the grave next to me in an old kokkaai kissie. What would the neighbours say?"
Thereupon both of us burst out in laughter, leaving the poor begrafnisondernemer with a frown that was outlandish even for someone who gets paid to look heartbroken.
Johan laughed a lot towards the end. Even the night he died, we were sitting at this very same table, he laughed as we watched a home movie we had made on our tenth anniversary when he invited everyone we knew to a party, and when the guests arrived they found him dressed in nothing but an old worn-out onderbroekie that the gardener had left on the wasgoeddraad the time Johan fired him after finding him masturbating in the garage. Shame, he gave him two hundred rand and told him that we had trusted him to be completely open with us, and now we had found that he was all the time doing stuff behind our backs. Two weeks later I asked Johan what had happened to the gardener, and he told me the story, adding that a man who tosses in the garage can't be trusted with your gardening tools either - especially the hose-pipe, Johan said.
Jis, he was stout. He had such a lekker laugh that nobody could withstand joining in the laughter whenever he started.
I liked it when he laughed. For very long there were very little to laugh about. There's nothing very funny about growing up as a moffie in a plattelandse Free State dorpie.
Yes, I know! Moffies aren't born like that - they turn that way as a result of some terrible childhood event. You don't grow up a moffie. You become one through slegtigheid. It's the answer the world has constructed for themselves so they won't have to deal with the reality. I mean, God, if we agree that you're born that way we would have to admit that it's not wrong, and once we start condoning the bleddie faggots we start doing away with our teachings, beliefs and predispositions that we have spent ages constructing. ...
Kak, man! It's bleddie kak! Do you think someone would choose to be dead at the age of thirty-four simply because he had to look for love where he could not be seen?
Do you think I chose to be alone?
Do you think I chose to lose the person I loved?
PHILLIP kry 'n foto op die kas en wys daarna.
God, he didn't deserve it. The only choice he ever made was to be true to himself. He didn't ask for anything but to be himself.
We met at varsity. Johan studied law when we met but switched over to a B.Ed the following year - he said that while he was a law student he saw how many stupid people made it into university, and decided there and then to become a teacher - so he could make sure no more idiots pass their matric exams. I studied drama.
I still remember the day we first became aware of one another. It was a cold winter's evening and I had been invited to a poetry evening in one of the local student hangouts. I never really attended any student jols, but on Tuesday nights, because it had been poetry nights, we were able to enter the hangout without the fear of it being taken over by the barbaric koshuis-boelie-beefs - who only ever went out to satisfy their need for the companionship of a specific type of female student, one who can roughly be described as having more pubic hair than brain cells.
Ag, but anyway, about halfway through that evening at the poetry club, I remember this arrogant, witty fellow, who after he had his turn to read his poetry, made remarks about all the other poets. He was sitting right behind me and when, for the umpteenth time, my friend shoved me in the ribs with his elbow in order to get me to take the fellow on about his rude remarks, I turned around and said to him: "If you don't shut up now, gaan jy jou gat sien."
Very pleased with myself I turned back when suddenly I felt someone tapping me on the shoulder. I turned around and as sure as hell it was him.
"I'm sorry," he said, "but I'd rather let you see it, if you don't mind."
"See what?" I said, "can't you see I'm listening to the poetry ...?"
"My gat," he said. "And, by the way," he said, "why listen to poetry if you can have it in motion?"
Fok! As you can imagine, I was absolutely flabbergasted. Not only did I not understand at all what the guy with the rude remarks was trying to say, but I was completely mesmerised by his ocean blue eyes - up to this day I haven't seen anything as beautiful. Even when he was on his deathbed Johan's eyes still had that sparkle with which he looked at me that night at the poetry evening.
The rest of the night's poetry was pretty much spoiled for me. I could think of nothing but the gorgeous guy behind me; and when, a couple of days later, I finally figured out what he meant, I was so confused that I convinced the campus doctor to book me off for a week, because, as I swore to him, I would not be responsible for my action if I'd be allowed to walk the campus in my condition.
I spent the whole week in front of the mirror - trying to observe any physical signs that would indicate that I might be gay. I even joined the gym to boost my muscle tone in an effort to be more masculine, and from the local flea market I bought a pair of vellies that were sure to erase any doubt about my sexuality.
The following week I approached the campus with my vellie disguise and sore muscles from a week of intensive gym training - but Ö die koeŽl was deur die kerk.
As if I was looking through someone else's eyes I started to become aware of feelings, sights and sensations so foreign yet so familiar. It was as though the light that blinded Paul had given me my sight - only, that Sunday in church I learnt that it wasn't on the Damascus road but on the wide path leading straight to hell - according to the dominee who, in a sermon against the evils of homosexuality, described gays as the filth of the earth.
I decided there and then that I would not be swallowed by the evil ways, and that I would fight this demon inside me with everything available to me.
I even managed to screw a funky bohemian girl on a outing to the theatre arranged by the English Students' Society. But, when six months later, at the house of a mutual friend, I once again bumped into the rude guy with the blue eyes, I decided to trade the NG Kerk's Jesus for my own happiness.
I remember once reading a quote that said: "If God did not intend for man to be happy, why do we call him God?"
Ag, anyway, from that day forward I never looked back again. I had found myself, and though it confused others, for the first time I was truly happy.
I can still remember my mother's reaction the day I sat her down at the kombuistafel to give her the news. It was a Wednesday,
I sat her down at the table while I made coffee for the two of us, with my mother chatting non-stop about the terrible melktert she had bought at the kerkbasaar, and saying that she, after having found out that they were the result of tannie Saartjie le Grange's baking skills, intended to return it, for though one is supposed to give your tenth, my mother said, even God has to, at the very least, guarantee his products.
I looked at my mother from behind the counter on which the kettle used to be. She was beautiful. She was the one person I needed to understand me. She, who had brought me into this world, had to know that, besides being gay, I'm still me. "Mamma," I said, while she was saying how klonterig the melktert was. "Mamma," I said again, and sat down next to her at the table. "Mamma, I have to tell you something," I said. She looked up at me with her big brown eyes that sometimes, in the gaze of the summer sun, appeared to be green. In her eyes I felt the comfort that I had known as a little boy. I saw the tenderness that I had never seen anywhere else. The tenderness of a mother's gaze. My mother's gaze.
"Is daar fout, Seun?"
"Mamma ... Mamma ... ek is gay," I said and then, only then, did I feel the tears dripping from my chin onto my arm. "Ek's gay, Mamma," I said again through the tears, without looking at her, for even though I wanted her to know so badly, I could not shake off the feeling that I was somehow letting her down. I couldn't escape the feeling that I disappointed her in some terrible way.
There was a long silence.
She got up and left the table. At the sink she stopped. In the reflection of the kitchen window I could see the tears streaming from her eyes. I wanted so much to get up and go to her and put my arms around her and tell her that I loved her, but ... then she looked down into the sink as she poured her coffee down the drain. She turned around and looked at me like I've never seen my mother look at anyone - not even at Paulina, our ousie, the time my mother caught her red-handed stealing washing powder from the gangkas.
"Loop," she said. "Jy's nie meer welkom in hierdie huis nie."
The bad thing is ... that's all she said. Nothing else. And that was it. I never saw her again.
Only once, after the local morning paper had published an article on a cabaret show I had done, did I hear from my father. I was busy rehearsing in the theatre that morning when my phone rang. I picked it up, and without even looking at the number on the screen, I answered.
It was my dad.
"Ek's trots op jou, Boeta. Kyk na jouself."
And then he hung up.
I immediately phoned Johan and, as usual, he came right away. By the time he got there, though, I was crying like a baby. He took me in his arms and held me for quite a while. "Ag, nee, toe-toe-toe," he said, "stop nou die geween. Jou oŽ gaan oppof en dan lyk jy vanaand met die show soos 'n uitgewaste pentie."
I realised that Johan was more than my lover. He was my friend, he was my brother, he was my teacher, and Ö he had also become a parent. He had filled every void in my life that have been created by those who should have been there, and he asked nothing in return. Only that I love him.
That night, after my performance, I returned to the changing-room, and found a huge bunch of pronkertjies (my favourite) and a card reading: "Whatever you have lost, I will replace. Whatever you need, I will supply. Simply because ... I love you. All my love. Johan."
I still occasionally missed my parents, though.
Especially when we moved into our own place, it would have been nice to have them around. My father could have helped to put up all the paintings and my mother always knows exactly where to put what. I always told her that she should have become an interior decorator.
Johan and I had been together for about six years when we decided to move in together.
Hell, you know, there's only one thing worse than looking for a house and that's looking for a house if you're gay. Fok, we just couldn't get the right place. If the kitchen was big enough, the bedrooms were too small, and if the bedrooms were large enough the damn place was too expensive.
Sure, it would have been easier to find a place if I had been looking on my own - having Johan around didn't help much. The first thing he did whenever we went to look at a house was to inspect the shower. After a couple of times the estate agent got curious about this ritual and asked Johan what it exactly was that he was looking for in a shower. He explained that a shower is most probably the most important thing in a gay household, because unlike straight couples, gays can't make love in the bath - unless it's your objective to drown your partner - so it's vital that the house should have a shower "worthy" of lovemaking.
Naturally I wasn't very surprised when on our next appointment to view a house we were met by a new agent who informed us that the previous one was ill and couldn't make our appointment. Whatever illness she contracted, it must have been serious, because even though we searched for six months before we found this place, we never saw her again.
We instinctively knew we were at the right place when we first saw this one. Through all our searchings it was the first house that satisfied both of us. Johan was happy with the shower and I just felt right about the place. Something inside me felt at home the moment I stepped through the front door.
After we eventually signed all the papers, Johan and I came here one night, when the place was still empty, and we had dinner on the floor in the sitting room. Johan had brought his little cassette player with and later that night we lit a fire in the fireplace and listened to Barry White. We fell asleep in each other's arms, and when I woke during the night, I remember looking down at him where he was sleeping on the floor, thinking that finally, finally my life had some meaning.
The next morning I was woken up by the sound of people talking, and when I looked out the window, I saw Johan introducing himself to the neighbours, wearing nothing but a silk tie. Luckily, it turned out that they, too, were somewhat different - two retired sisters whose husbands had passed away many years before and they resolved to enjoy whatever's left of their lives. Shame, dear Malie and Aletta. Aletta died about a year ago, but Malie's still going strong. She's even running the Bingo club at the retirement village she moved to after Aletta died.
The flowers came from her. She was devastated about Johan's death. She sat next to me at the funeral today, and when the dominee read the part in the geloofsbelydenis where it says that "ek glo in die gemeenskap van die heiliges", she turned to me and whispered, "fok die heiliges."
Dear old Malie - she's been so wonderful since Johan passed away, and even before that, after he became too ill to look after himself, she came here every day to see to his needs.
Ag, ja, it was two years ago that we learnt about his illness. We were on holiday in Umhlanga when he became ill. First it only seemed like a nagging cold, but when, after a month, he was still not feeling well, the doctor suspected that something serious may be wrong.
Come to think of it, you know, all the signs were there long before, but ag, I mean, one doesn't expect something like that to happen to you. We were still so young. We still had so much we wanted to do. Johan had just been promoted to deputy headmaster and, you know, we just never thought it necessary to stop and think about death. Young people aren't suppose to die, I mean, Johan and I were still planning an overseas trip for that December holidays. We would have travelled the States for a couple of weeks, and then spend Christmas with his sister and her husband in Canada. We were planning a life, not preparing for death.
I took off from rehearsal that Monday morning to take Johan to hospital for the tests - the doctor said it would be easier for him to be admitted and he assured me that Johan would be released within a day or so, but when three days later he was still in hospital, I knew that something was wrong.
Of course the doctor tried to comfort me. He said that it was routine and that I should not be worried. He said that Johan would be released as soon as the tests were completed, but I knew that he was lying.
That Friday afternoon Johan was finally released. On our way back from the hospital he asked me to stop at the roadhouse near the Union Buildings. He got out and bought us each an ice cream, but when he got back into the car the tears in his eyes confirmed my suspicion.
I didn't need to enquire, for I knew exactly what was going on. We sat there in absolute silence, eating our ice cream and avoiding eye contact as much as possible. Even on our way back not a word was said, and that night, for the first time since we had been together did we not have dinner together at this very same table.
The next morning I woke up and found that Johan hadn't slept in the bed. I went down to the kitchen and saw that his car keys were not hanging on the shelve next to the fridge, but I wasn't concerned, 'cause I thought that he may have gone shopping - he usually left early for the shops on Saturdays - he couldn't stand the crowds at the mall and liked to be home before the rush.
I went upstairs again and started to run my bath water and then, on impulse, walked to the phone in the bedroom and phoned my parents.
My dad answered.
"Hallo, Pa", I said, "hoe gaan dit? Dis goed; en met Ma? Dis mooi. Pa ... Pa, ek mis julle. 'Bye, Pappa."
I put down the phone, and then I noticed the envelope on the table next to the phone. It was marked "Koeks", in Johan's handwriting, complete with the two little crosses he always made when he wrote me a letter. The ink had been smeared - something had been spilt on it so that the one cross was much bigger than the other. I opened and read it.
He had left me.
He wrote that he was sorry about leaving me like this, but that he didn't want me to see him suffer. He said that the people who had abandoned me because of my sexuality would, if he stayed, revel in the fact that "finally my sins caught up with me".
My world caved in there, at that telephone table.
I sat there, not knowing what to do or where to go. I couldn't help myself. I started to cry - not the uncontrollable kind of crying that children do when they don't get what they want, but the silent kind. That kind of crying that happens inside you, like when sometimes, out of the blue, the feeling of absolute loneliness gets hold of you.
I cried because I realised that I had lost more than a lover and a life partner. I had lost a life.
I was in an absolute trance. I snapped out of it only when I remembered that the bath was still running. The water had already spilled onto the floor, but I didn't even bother to dry the carpet. I just went back to my bed and laid there staring at the ceiling.
I must have fallen asleep, because next thing I realised, it was dark already. I was woken by the doorbell. I stumbled out of bed and felt my way down the dark house. In the dark everything seemed foreign. I even fell a couple of times on my way to the door.
I switched on the stoeplig, but didn't even bother to look through the peephole to see who it was. I just opened the door. My eyes, which had become used to the darkness, couldn't see in the bright light.
"Hello", I said as I opened the door, trying to keep the light out of my eyes with my one hand.
"Hallo, Boeta."
I just burst into tears again, but for the first time in many years I felt safe to do so. There's something about the embrace of a father that gives the heart permission to open up.
My dad had grabbed me and we held on to each other as if our lives depended on it. Though both of us were crying, my dad just held on to me and said, "Dis okay, Boeta, huil dit uit." He still smelled the same - Old Spice and rum and maple. It seemed as though we'd been together forever, as if we'd never been apart. From the texture of his coat, rubbing against my chin, I even recognised it as the one he had bought from the Indian market in Durban the time we had gone down there for a cousin's wedding.
My dad stayed that night till long after midnight. I told him everything, and somehow, to my surprise, he didn't seem disturbed when he heard about Johan's illness. He never even asked if I had it too ... you know ... he just asked about Johan's condition.
We chatted for hours. I even showed him our photo albums, and he was so jealous when he saw the photo taken at Twickenham the time we went on the rugby tour to Europe - I think he must have been flabbergasted to learn that moffies go on a Springbok rugby tour.
To my surprise I learnt that my dad had seen almost all my performances, and owned all my CDs. He told me, though, that he had hid them in the garage, and only listens to them under the pretence that he's fixing the lawnmower, since my mother never really came to terms with me being gay. He seemed alright with it, though. He asked if he could have a photo - the one Johan had taken of me at the Eiffel Tower - and when he opened his wallet to put it away, I saw him put it into a empty folder next to a creased photo of me taken in standard four.
When my dad left in the early hours of the morning I went to bed feeling a lot better. I realised that Johan's decision to leave didn't upset me so much because I had lost him, but more so because I didn't want to go through it on my own. I went to bed knowing that I wouldn't, though. I wasn't alone anymore.
I had someone there for me.
My Daddy.
For the next three weeks I saw my dad nearly every day. Sometimes he visited me in his lunch hour, and sometimes he came when he had told my mother he had to attend a kerkraadsvergadering or a rolbalklub-meeting.
The days felt like weeks. Every minute of every hour I wondered where Johan was and how he was doing. Some days I didn't even get out of bed. I would stay in bed, paging through all our photo albums. On better days, I got dressed early and cleaned the house, telling myself that today, perhaps within the hour, Johan will return to me, and everything will be all right. Some days I even made food for both of us - usually his favourite dishes: bobotie and geelrys or hoenderkerrie or tamatiebredie.
And then, one night my phone rang. It was my dad, saying that he was outside at the gate and that I must come out and help him. I went out and saw my father busy with something at his car's backseat - I assumed he had once again brought me groceries and that he wanted me to help him carry the stuff into the house.
I ran out towards the car shouting that he should have pulled the car in closer to the front door, but when I got to him I stopped in my tracks.
Johan was lying on the backseat. My dad was busy wrapping him in a blanket and then he picked him up and carried him to the house.
"Kry die tasse in die kattebak," my dad said as they passed me, "en sluit die kar as jy klaar is."
I just couldn't believe it.
I couldn't move.
"Maak gou, dÍmmit, ons moet vir hom iets warms aantrek," he shouted again from the stoep. Suddenly it dawned on me. I rushed to the car and got the suitcase from the boot and rushed into the house. My dad had laid Johan on the couch in the living-room and was busy taking off his socks when I entered.
I stared at Johan. He had lost a lot of weight. His skin was pale and he had dark rings under his eyes. He looked up at me. Both of us had tears running down our cheeks. I could see that he was exhausted. With his lips, blue from the cold, he slowly formed the words, "I l-o-v-e y-o-u." "And I l-o-v-e y-o-u," I answered. "Nou ma' toe-toe-toe dan," he said, "take over from your dad. Netnou wil jou outoppie my gaan bad ook; en you know what happens when a man touches my penis."
My dad just sighed. "Dan loop ek maar liewer, want dit lyk my diť bliksem kry nou sy tweede asem," he said.
I walked my dad to the door.
"Pappa ... Dankie! Ek's lief vir Pa."
He just winked and walked to his car.
Much later I found out that my father had gone to every hotel and guesthouse in town, and that, when he eventually tracked Johan down, threatened him that he'd force him to have sex with a woman if he refused to go back home. Johan told me that at that moment he had a vision of his tannie Myta, who he has seen naked once, when he was six, and the mere sight of it was enough to make him pack his bags himself.
So, as with everything up to then, Johan and I also undertook his final journey, together.
It wasn't always easy, you know. We had to make a lot of adjustments.
For one thing, we had to move our bedroom downstairs, since Johan found it very tiring to climb the stairs. Luckily, through the help of a dietician friend, he gained some weight again, and by taking daily walks in the park we managed to keep up his physical condition. He became very fond of this outings to the park. He even asked me to buy him a sketchbook, and on Sundays, when I usually packed us a picnic basket to take with, he would draw birds and trees and things that he observed around him in the park.
To be quite honest, he actually became my source of inspiration during those last few months. In times when I was overcome with sadness, especially when I watched him struggle with simple everyday tasks, his appreciation of life, or rather his appreciation of even the quality of life afforded to him in those times, gave me the strength to carry on.
And then, the end came.
It was a week ago today.
He had gotten a 'flu that we just could not get rid off. Eventually it turned into pneumonia. I took him to the doctor that afternoon, and when we returned he asked me not to put him in bed. He said that he rather wanted to sit with me in the kitchen. I was preparing food - he had asked me to make some of my ertjiesop.
We had dinner and then we talked while I did the dishes. It was the one good thing about his illness, he said - the fact that he didn't have to help with the household chores.
And what's the bad thing? I asked.
"Wat bedoel jy?" he said. "Jirre, Johan, you know goddamn well wat ek bedoel."
There was a moment of silence. And then, just like I saw my mother's tears in the reflection of the window the day I told her that I was gay, I looked up and saw Johan's tears in the window in front of me.
"Ek's bang, Koeks," he said after a while.
I could not answer him.
I could not comfort him. For even though I could imagine how bang he had to be, I couldn't let him know how skytbang I myself was.
"Put on the video of our anniversary for me," he asked.
I put it on and made him comfortable on the chair. Throughout the video I watched his reactions as all our friends and loved ones appeared on the screen before us. He was saying goodbye. He was saying goodbye in the only way he knew.
"Was there anything you ever resented?" he asked.
"Wat?" I asked.
"I mean, about us," he said. "Is there anything in life you feel you have missed out on because we've been together?"
"Yes, dancing," I said.
"Hoe nou?" he asked.
"You know, there's not much opportunity for moffies to dance. I mean, really dance. Like at a sokkiejol. People somehow don't really fancy two men turning to 'Skarumba' or 'Liewe Lulu'."
Johan started laughing.
And then, to my surprise, he scraped together all the energy he had left in him and walked over to the hi-fi, selected a CD, and said to me, "Well, then, Mr Phillipus Viljoen, put on your dancing shoes."
I tried to shut him up - I mean, he could hardly walk, let alone dance ... But, he walked up to me, went onto his one knee, and said: "May I have this one?"
Ag, I was all snot en trane.
He pulled me up from my chair, and with his one hand flicked the remote control in the direction of the hi-fi.
The booming sound of Juanita's "Skarumba" rumbled through the house, making the wooden floors vibrate.
"Toe-toe-toe," he said, "maak gou, netnou hoor die bure watse common musiek ons speel en dan dink hulle dis ek wat so fokken stupid is."
I got up, tears still rolling down my cheeks, and we danced. For the first time in many years I danced. With the person I loved most of all. To the beat of "Skarumba".
"Skarumba" doof in. Die ligte doof uit. Kollig op Phillipus. Hy dans 'n oomblik lank op die maat van die musiek. Dan steek hy vas. Terwyl die musiek uitdoof, doof die ligte weer in. Kollig af.
Later that evening Johan passed away in my arms. He spent even his last hours trying to please me - although I doubt if he would have danced to "Skarumba" if anything less than death was looming.
At the funeral today a letter that he had written before his death was read out. He said that dying, for him, was not that difficult, 'cause he couldn't imagine having a better life than the one he had. He wrote that he may have been only thirty-four, but he lived at least eighty years.
But, he wrote, if there was one thing he longed for in his life, it was respect. Not for himself, though. For me. He wrote that he was sorry that because he had loved me with everything inside him, I never got respect I deserved.
I'll miss him. I'll miss having someone to love.
As his coffin was carried out of church his pupils formed a erewag and they sang "Ek sien 'n nuwe hemel kom".
And I can believe that.
He'll see to it himself.
Heaven will never be the same again.
Not with him there.
The bad thing is ... neither will the earth ever be the same without him.
PHILLIP sit nog 'n ruk lank by die tafel en blaai deur foto-albums. Die musiek word ingedoof. Die ligte doof onder die musiek uit.
Oor die skrywer:
Andries Vrey is 'n gebore en getoŽ Pretorianer. Met BA-grade in drama en kommunikasiekunde is hy tans akteur, regisseur en skrywer. Hy beskou homself as 'n storieverteller eerder as 'n akteur. The Infuriating Fable of Phillipus Viljoen het ontstaan toe hy op soek was na 'n komiese eenmanvertoning. Is dit outobiografies? Hy is nie self gay nie, maar hy vra of 'n mens gay moet wees om te ervaar wat Phillipus ervaar. "Wanneer gaan ons besef emosies is maar emosies?" Die toneelstuk is vanjaar tydens die KKNK op Oudtshoorn opgevoer. 'n Tweede eenmanstuk is in wording vir volgende jaar se fees.
LitNet: 29 Julie 2004
NOTA: Ek ontvang graag reaksie op hierdie teks. Stuur dit na dbbotha@mweb.co.za.
DANIE BOTHA