Local documentary The great dance achieves record-breaking box office returns
Read LitNet's review of The great dance.
It gives Ster-Kinekor Pictures great pleasure to announce that The great dance: a hunter's story is the second most successful documentary feature ever to be released on the South African cinema circuit. This local production was released at Cinema Nouveau Rosebank (Johannesburg) in October this year.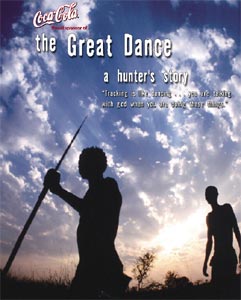 The only other documentary feature that opened bigger on the local cinema circuit was Buena Vista Social Club. This foreign-language film was released with 2 prints in South Africa. The great dance was released with only 1 print.
The great dance achieved a higher box office than most other (foreign) documentary features being released in SA. This gross was also reached in less than 6 weeks and improved on the life-time grosses being set by other documentaries, such as Mobuto: King of Zaire, Oscar-winner The last days, Mandela and Kurt & Courtney.
History was made earlier this year when The great dance walked off with 3 prestigious Panda Awards and 2 nominations from the WildScreen 2000 Awards Ceremony (the "Oscars" of Natural History filmmaking). WildScreen is the world's largest forum for Natural History Films and takes place biannually in Bristol (UK).
The great dance won the WWF Golden Panda Award for "Best Film". It was playing against steep competition, including the BBC / Discovery channel's Walking with dinosaurs and Sir David Attenborough's Life of birds.
The great dance — a hunter's story, voiced by Sello Maake Ka-Ncube from TV's Generations, is the first film ever to be fully supported by WIMSA (Working Group of Indigenous Minorities In Southern Africa). It deals with the unique relationship between the San people of the Kalahari and their environment, seen through the experience of hunting and tracking. Specially adapted mini-cam technology and never-before-seen footage of the death defying 'chasing hunt' makes the film unique and remarkable.
The great dance was directed and photographed by brothers Craig and Damon Foster of Cape Town, executive produced by James Hersov and produced by Ellen Windemuth, with a script by Jeremy Evans, music by Barry Donnelly and sound recording / additional photography by Teo Bielefeld. The great dance is an Aardvark / Earthrise / Liquid Pictures / Off the Fence production co-produced with KirchMedia, e.tv and Primedia Pictures. Coca-Cola ® is the proud sponsor of the film's theatrical release in S.A.
The great dance will be released on December 1 in Cape Town at Cinema Nouveau V&A Waterfront. This will be followed by a release in Pretoria at the Cinema Nouveau Brooklyn Mall on January 19, 2001.